Mumbai: Amazon Prime Video has today released the official trailer of Amazon Origin's new series "Lol – Laugh To Fase". This local edition of the international Amazon original series Lol will feature a group of comedians who have left a deep impression on India's comedy scene. Adar Malik, Akash Gupta, Aditi Mittal, Ankita Srivastava, Cyrus Broacha, Gaurav Gera, Kusha Kapila, Mallika Dua, Sunil Grover and Suresh Menon will be seen here facing a tough challenge under the vigilance of hosts Arshad Warsi and Boman Irani.
Perhaps for the first time, not only will his Humor be tested, but his endurance will be tested, as he will battle for six hours in a row, where he will make himself a poker face and be seen laughing at the others in the house! The goal should be the last person to laugh in the room, and the person who will be able to keep a straight face for a long time will eventually win the game. Indian and Prime members in 240 countries and territories can watch the show starting on April 30, 2021 exclusively on Amazon Prime Video.
Adar Malik found fame with his comedy special, Standup the Musical, a unique comedy show on Amazon Prime Video featuring a guitar and piano.
My first comedy special was made possible by Amazon Prime Video. It is never possible to get a grand piano to shoot a comedy show. And since then, I've worked with him a lot and continue to do everything from improv comedy to more standup. Lol – Laughed with Fase, the excitement is to work with 10 hilarious comedians and 2 hosts whom I admire as an actor. Trying to find your place in this team of people is incredibly difficult. Getting stuck with people who are 24×7 funny and who don't laugh, I think that would be very difficult. It is an eclectic group of artists that will certainly attract a much wider audience. After this show, my ability to not laugh has become stronger.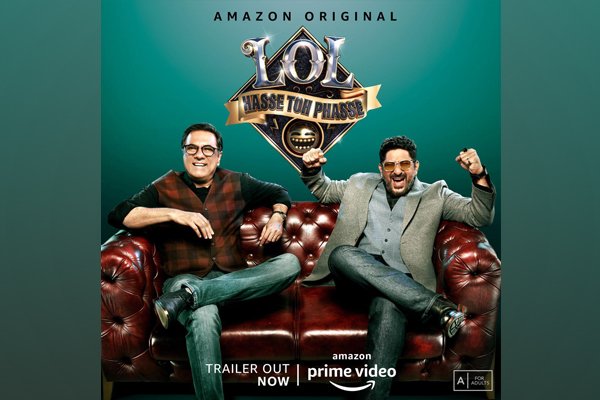 Aakash Gupta- Comicstan Season-2 is the co-winner of an unscripted comedy reality show on Amazon Prime Video.

Amazon Prime Video and I have an old relationship, so the chance to work with them again was clearly exciting. Winning ComicStan Season 2 was a very overwhelming experience and it was incredible to see the show reach such a large and global audience. When I was approached for a lol – laughed, I didn't have to think twice, because this is exactly the kind of different show format I was waiting for. 10 comedians and 2 lively hosts living together under one roof for six hours – it's going to be fun. My lung capacity has improved manifold.
Aditi Mittal – Laughing
One of the purest things about a human being is humor. Like a sneeze, it can be involuntary. It is a living system in bad times. It is an expression of joy in good times. At these times, it is not surprising that we are all turning towards it. Lol – Fake was absolutely ridiculous. Do not laugh while trying to make someone else laugh, just like you are not able to smell it while cooking a dish. While we (the contestants) could not smile or even laugh, I think the audience would definitely laugh – which would be as an expression of joy, sometimes as an expression of pain.
Ankita Srivastava – standup comic and Instagrammer, best known for her standup comedy videos and her character Billo Rani.
Lol – Laughing is so special for many reasons. I have felt honored to be a part of it along with eminent entertainers and comedians like Sunil Grover, Suresh Menon, Cyrus Broacha and others. Aditi, Kusha and Mallika are among the best comedians in the country. I will always remember working on the show with him. Frankly, when I came to know that Boman Irani and Arshad Warsi would host and judge the show, it was a big fangirl moment. The overall experience was exciting and I can't wait for the show on Amazon Prime Video later this month.
Cyrus Broacha, best known for his shows Bakra and The Week That Wasnot.

First of all, I would like to publicly apologize to my family and the audience in advance for my antics in lol – laughed. Madness is waiting for them. Having said this, I would like to add further that I have never confined myself to a particular medium during my career and have believed in discovering everything that destiny has planned for me, including acting in theater Be it or movies, hosting a show or podcast, pranking people on the go, covering news, performing on stand-up, writing columns and publishing a book. Lol – Laughed To Fasse is a unique themed show which is another exciting twist in my life and I am super thrilled to be a part of it.
Gaurav Gera – known for being none other than the showkeeper and pinch comic series and TV show Jassi.

As an actor and comedian, I love diversity and every time I introduce something new to my audience. Over the years, I have always tried to experiment with my roles and played all the characters with full tenacity. When I first heard about this unconventional show, I knew I had to do it. I have tried all kinds of stunts and looks to make my fellow-contestants laugh. I am thrilled that such an interesting format that has been successful around the world is finally coming to India in a local avatar.
Kusha Kapila – Social Media Sensation | Content Creator.

I am always striving to entertain people and I am happy that I have got a chance to be a part of Lol – Laugh Soo Fase which is bringing uncompressed comedy in a completely new format. Most of the characters I've played are inspired by real life or inspired by my own routines and I really got a chance to really push myself in this show. I spend more than half my time laughing at my own jokes, so it was not easy for me to keep a straight face in front of all these senior and experienced comedians.
Mallika Dua- is known for her funny characters on Instagram.

Lol – I laughed a lot and I am sure the audience will do it too! I will not lie, I was very scared in the beginning. I thought I would get scared and I would freeze but the fun I had was crazy. The show was very challenging, you basically have to make other comedians laugh, without laughing at yourself! You have to be on high alert all the time, so that even a little smile is not given. It is a high-pressure high-fun comedy battleground and unlike anything I've done before. It is not like a scripted shoot, it is neither standup nor theater! This is crazy. I am thrilled that this format has finally arrived in India.
Sunil Grover – Ace comedian Joe Gutthi, popular for his portrayals of Dr. Famous Gulati and Rinku Devi.
As soon as I entered the show and found who else was with me on the battlefield, I thought – "Fussed"! Lol – Laughed if stuck, it was a challenge and an experience. It's not just a show … it's a unique human experiment. Imagine being with 10 hilarious professional comedians, under one roof, with their A-game. And you can't even smile! All I can say is – it was not easy, but I enjoyed myself a lot and will love it when the audience also sees it.
Suresh Menon- is popularly known for many other roles including Bollywood films such as Grand Masti, Phir Hera Pheri, Partner.
I have a face that inspired a smiley emoticon and it was really challenging for me to keep a simple face and not laugh and that too when some of the country's most talented entertainers cracked jokes. I had prepared well with family and friends and the fact that I have been married for a long time also helped me. I trained every day with the help of the Facial Aerobic Trainer and Eye Healer, I had a game-plan to control myself from smiling or laughing before entering the lol house. Viewers will be able to tell whether all my homework helped or not. This show is the most formidable challenge of my life and I have thoroughly enjoyed being a part of it. Looking like Tom Cruise from some of the Angels also helped, especially from the back of my neck.
Get ready for "Lol – Laugh To Fase" which is set for release on April 30 on Amazon Prime Video.