26/12/2020
Amit Shah visit Assam for 2 days, campaigning for local polls
Guwahati: Union Home Minister Amit Shah arrived in Guwahati in Assam on his two-day visit on Saturday. During his Assam visit, Amit Shah addressed a gathering in Guwahati after laying the foundation stone of several government schemes.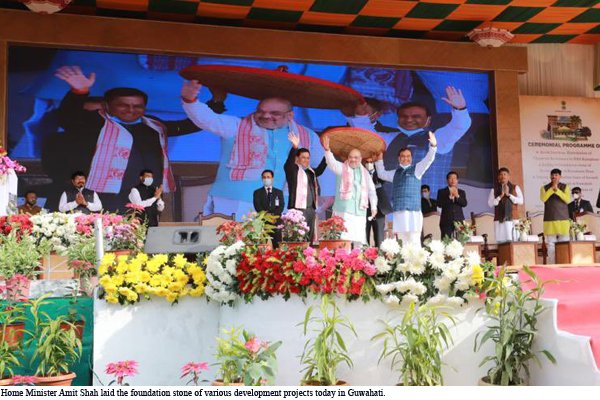 Shah distributed financial grants to 8,000 'Namghras' or Vaishnava monasteries under the Assam Darshan program. He laid the foundation stone of several schemes including a new medical college and 10 law colleges in Guwahati.
In his address, Amit Shah said that in the first 5 years, sometimes a Prime Minister used to come to the Northeast, but within 6 years Modi ji himself has visited the Northeast 30 times and has brought a gift every time. Amit Shah will also meet Assam's regional political party, Asom Gana Parishad (AGP), United People's Party Liberals (UPPL), Gana Shakti and Rabha Jautha Manch.
"Once upon a time, separatists used to run their agenda in all the states here, holding guns in the hands of the youth," Shah said. Today, all those organizations have joined the mainstream and today the youth are competing with the youth all over the world with their new startups.
"Praising Chief Minister Sarbananda Sonowal, the Home Minister said that under his leadership, the tea of ​​Assam A lot of work has been done for gardens. First of all, by opening bank accounts of 7.20 lakh people, the work has been done to protect them from middlemen.
Assembly elections next year
Let us know that assembly elections are going to be held in Assam next year. In view of this, the visit of the Union Home Minister is considered very important. Home Minister Amit Shah said, "The journey of development in Assam for nearly four and a half years has been led by the pair of Sarbananda Sonowal and Hemant Vishwa Sarma here under the leadership of Modi Ji. Today there is going to be a huge program to unite Assam, to unite the people of Assam, to connect Assam with India, and to bring the message of Guru Shankar Dev to Assam within the world. "
The Home Minister further said, "Modi ji has run the government for 6 years keeping the development of the Northeast at the center. I am confident that in the future our government will continue to serve the Northeast in this way. "