New Delhi: Farmers have been protesting for the last 5 days in protest against the new agriculture law made by the central government. The first farmers were forbidden to enter Delhi and the Delhi-Haryana border was sealed. Later, the government proposed to the peasant leaders to end the road jam and come to Burari and agitate in a democratic manner. But angry farmers for not listening to them, threatened to block the highway connected to Delhi, after which Delhi Police put up solid barriers on the Ghazipur, Delhi-Ghaziabad border on Monday morning. On Sunday, farmer leaders camping on the Singhu border announced at a press conference on Friday that they would block 3 more Delhi borders.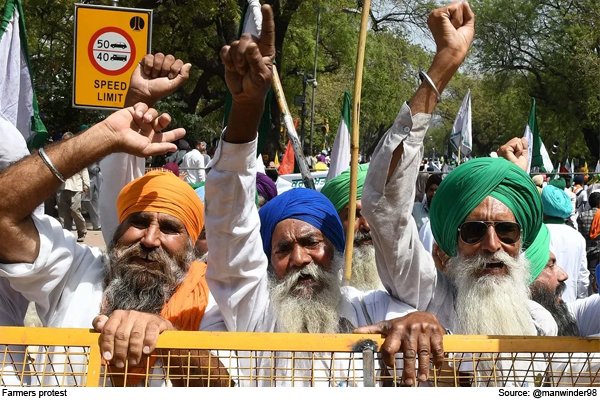 A small uproar was also reported from Ghazipur border on Sunday evening where the farmers tried to push the police barricades. On the condition of anonymity, a senior police officer said that cement bags have been put on the border to stop the vehicles of the farmers. "Since the farmers have called for blocking the Delhi-Ghaziabad, Delhi-Gurugram and Delhi-Faridabad border, adequate measures are being taken," the official said.
Police said that they are also closely monitoring the situation in Delhi-Gurugram, Delhi-Noida and Delhi-Faridabad border areas and security is being maintained as required. The farmers marched till Delhi on Friday, but were not allowed to enter the city, leading to violent clashes between them and the Delhi Police. On the same day, the police allotted him the Sant Nirankari Maidan in Burari to continue his agitation, but he turned down the offer.
Also read in Hindi: नाराज किसानों ने दिल्ली की 3 और सीमाएं जाम करने की धमकी दी