08/05/2021
Announcement of lockdown in Itanagar from 10 to 17 May, guidelines issued
Itanagar: Arunachal Pradesh Capital Region Deputy Commissioner Talao Potom announced a week-long lockdown in Itanagar Capital Region on Friday evening. On 10 May 2021, lockdowns have been announced in Itanagar from 5 am to 17 May 5 pm in Itanagar. A meeting organized by the State Disaster Management Authority under the chairmanship of Chief Minister Pema Khandu announced the announcement and lockout of major containment measures in Itanagar in which representatives of the State Council of Ministers and Health Department and other officials were present.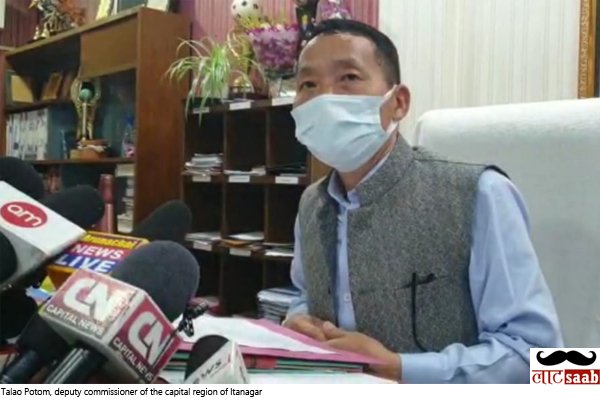 At the meeting, Health Secretary Dr. Sharat Chauhan informed that the decision was taken to stop the virus from spreading. Principal Secretary informed that tourist inner line permits will remain suspended during the period of this order. No meeting and gathering shall be permitted at any open or closed places. He said that a maximum of 20 people would be allowed to attend only religious ceremonies for marriage. Marriage celebrations will not be permitted at any reception parties. A congregation of not more than 5 persons will be allowed at all religious places at any time. Funeral meetings will not allow more than 20 people for each person. All shops and commercial establishments will be closed by 4.00 pm on all days.
In the Itanagar area, guests will be able to dine in restaurants, dhabas, and other eateries till 4.00 pm. Takeaways including home delivery of food have been allowed until 6.30 pm. The restaurants running within the hotel or resort can only allow outside guests until 4.00 pm. However, in-house guests of the hotel or resort may be allowed to dine.
Auto rickshaws, cycle rickshaws, and taxis will operate with one driver and two passengers who will maintain social distance. The order states that city buses and inter-district and interstate buses will be allowed to operate with a seating capacity of 50 percent. It is also mandatory for a single person driving a vehicle to wear a face mask. Wearing face masks is mandatory for all persons traveling in any private car up to 100 percent of their seating capacity.
From 6.30 pm to 5.00 pm daily, there will be a complete ban on the movement of persons other than health workers and media persons of Kovid-19 in the night curfew.
Meanwhile, Deputy Commissioner of Itanagar Capital Region, Talo Potom, said that during the lockdown, such as milk and dairy products and driving and all kinds of construction activities, except for all shops and business establishments and other government and private persons operated sites. Operations will continue. Construction will be exempted under major government projects and public programs and offices and institutions, both public and private, will also be banned.
Delivery of food and essential services and e-commerce will be allowed. The SDO Capital Region and the concerned administrative officials will arrange for the delivery of food and essential services. In banking services, Covid will be allowed to work with minimum staff as per proper behavior.