30/12/2020
BARC developed the first indigenous Ruthenium 106 plaque method for the treatment of ocular tumors
New Delhi: Union Minister of State for Development of North Eastern Region (Independent Charge), Prime Minister's Office, Minister of State for Personnel, Public Grievances and Pensions, Atomic Energy and Space, Dr. Jitendra Singh as the first indigenous Ruthinium 106 plaque for the treatment of eye tumors Appreciated the Bhabha Atomic Research Center (BARC) for developing the method of treatment. It is easy and convenient for the surgeon to handle this plaque. The special thing is that this plaque is considered equivalent to international standards.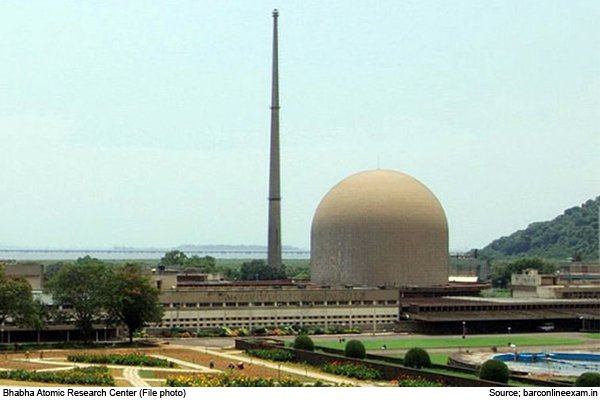 It is noteworthy that Dr. KN Vyas, Chairman cum Secretary, Department of Atomic Research (DAE), in detail with Dr. Jitendra Singh, Minister of State (Atomic Charge), Minister of State for Atomic Energy, in October last year on the possibilities of treatment of this disease related to eyes. Had discussed and told the minister what role the Department of Atomic Research could play in it. In the same sequence, at the suggestion of Dr. Jeetendra Singh, the Department of Atomic Energy started taking the support of Dr. Rajendra Prasad Eye Science Center of All India Institute of Medical Sciences (AIIMS), New Delhi to move forward in this direction. After some time AIIMS New Delhi agreed that they will use the plaque developed by Bhabha Atomic Research Center for the treatment of eye cancer during the treatment of patients. In September 2020, AIIMS first used this plaque on the eyes of a patient with choroidalHemangioma. The results of this treatment have been quite satisfactory.
Dr. (Prof) Atul Kumar, President of Dr. Rajendra Prasad Eye Medical Center, AIIMS, New Delhi said that till now the BARC (BARC) plaque developed in India by the Department of Atomic Energy on seven patients suffering from eye cancer Used, they include two retinoblastoma, two choroidal melanoma, two ocular surface squamous neoplaza (Ocular Surface Squamous Neoplasia (OSSN)) and one choroidal hemangioma (ChoroidalHemangioma). According to him, it is quite convenient and easy for the surgeon to handle and maintain this plaque. Its initial results are also quite satisfactory.
While giving his views on this success, Dr. Jitendra Singh said that in the last five years the Department of Atomic Energy has tried to diversify and broaden its activities and objectives with the aim of benefiting the common citizens. He said that the development of indigenous plaque treatment system for patients suffering from eye cancer is one such commendable and successful start in the field of medical management. He said that this treatment method has given patients a simple and low cost option.
Dr. Jitendra Singh informed that the Tata Memorial Cancell Hospital in Mumbai as well as Barua Cancer Hospital in Guwahati, Assam has been selected as an ancillary hospital to work under the Department of Atomic Energy. He said that for the first time in the entire North East region, DM and Mch highly specialized courses of cancer have also been started in this institute.
The Department of Atomic Energy is also making unmatched contribution in many other fields. For example, the Bhabha Atomic Energy Center (BARC) is using radiation technology to extend the storage period of vegetables and foods in agriculture, apart from helping to produce bullet proof jackets for security forces.