02/05/2021
Bengal Election Results: TMC leads in initial trends, Mamata lagging behind Nandigram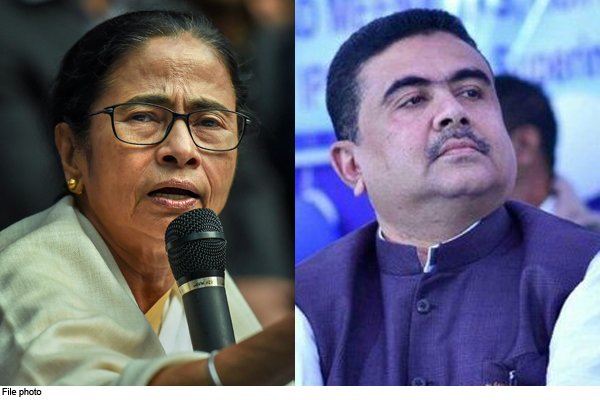 New Delhi: Counting of votes is going on for Nandigram Assembly constituency, a high-profile seat in West Bengal. At this time, the eyes of the entire Bengal are on Nandigram. Nandigram is a fight between TMC supremo and Bengal CM Mamta Banerjee and former TMC leader and now BJP candidate Suvendu Adhikari. Apart from Mamta and Suvendu, Left Front candidate Minakshi Mukherjee is also in the fray from the assembly seat. Now it has to be seen that on whom does the people of Nandigram express their trust. Also, it will be interesting to see whether Mamta's 'Khela Hobe' in Nandigram or 'Vikas Hobe' to BJP. By the way, Mamata was trailing by 8,000 votes in the initial trends. However, his party TMC is leading in the early trends and leading in 163 seats. The BJP has also crossed the 100 marks and is leading in 107 seats.
In 2016, Suvendu Adhikari won from Nandigram by defeating Abdul Kabir Sekh of CPI. In 2011, TMC's Firoja Bibi won the seat by defeating her nearest rival Parmanand Bharti from CPI. This means that this seat has been occupied by TMC for the last two times. But, this time the fight seems to be different. Now it is to see which side the camel sits.
In recent years, the BJP has also jumped into the game of throne in West Bengal, so this fight has become even more interesting. The Corona era also dominated the ruling Trinamool Congress (TMC) and Bharatiya Janata Party (BJP) in power-packed campaigns involving stormy rallies and mega road shows. No other party was even seen around these two parties during the election campaign.
Please tell that in Nandigram, one of the important seats of West Bengal, Suvendu officials of BJP are continuously leading. Suvendu Adhikari leads Mamta Banerjee by 1500 votes in the first round. BJP's Suvendu officer continues to hold the lead even after the second round of counting. Suvendu Adhikari is leading by 8,000 votes after the second round of counting.