19/12/2020
Bengal Politics: Shah Says 'Didi Will Be Left Alone' Suvendu Adhikari Joins BJP
Senior leader and former West Bengal minister Suvendu Adhikari, who resigned from the Trinamool Congress (TMC) on Thursday, joined the BJP in the presence of Union Home Minister Amit Shah in Paschim Medinipur on Saturday, 19 December.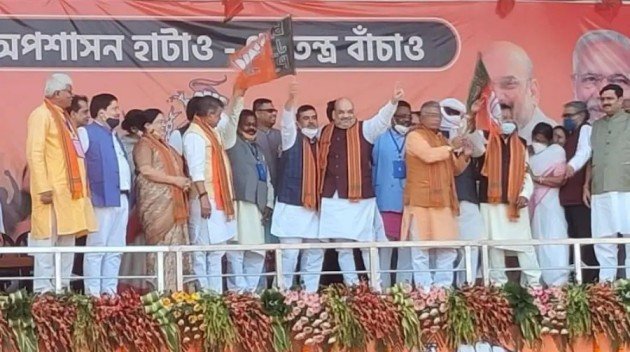 Adhikari was present on the stage at College Ground where Shah addressed a rally, Medinipur is considered to be Adhikari's stronghold.
BJP Bengal chief Dilip Ghosh, leader Mukul Roy and senior leader Kailash Vijayvargiya were also present in the ceremony with union minister Amit Shah. Shah is on a two-day visit to Bengal to take stock of BJP's preparations ahead of the 2021 legislative assembly elections.
Along with Adhikari, TMC MP Sunil Mondal, former MP Dasarath Tirkey, and nine sitting MLAs, including five from Mamata Banerjee's party, also joined the BJP on Saturday. Two others are from CPI(M), one from CPI, and one from Congress.
Addressing the rally, Amit Shah reiterated that the BJP will win more than 200 seats in the state elections next year.
Senior party members are leaving TMC accuses BJP of inducing party members to defect. But I want to ask her when she quit Congress to form TMC, was it not defection? She will be left alone before the election, this is just the start he said.
You gave three decades to Congress, 27 years to Communists, and 10 years to Mamata Didi. Give five years to Bharatiya Janata Party, we will make Bengal 'Sonar Bangla'.
Earlier, in his address, Adhikari slammed the financial downgrowth of the state. "If the state has to be salvaged, its reins need to be handed over to Prime Minister Narendra Modi," he reportedly said.
In an open letter to TMC grassroots members, Adhikari said the state is standing at a critical juncture as people are destined to make a choice in the 2021 elections that will impact them forever.
Earlier on Saturday, the home minister paid homage to Indian revolutionary Khudiram Bose and met his family members, Khudiram Bose is as proud of India as he is of Bengal, and those indulging in 'narrow' politics of regionalism should get over it, Shah said.
He also visited the birthplace of Swami Vivekananda in north Kolkata, saying his ideas are more relevant in the present-day world, this is the place where Vivekananda Ji was born. He connected modernity and spirituality. I pray that we are able to walk on the path he showed us, he said in Kolkata.
On Sunday, a roadshow has been scheduled to take place at Bolpur in the Birbhum district. Shah will also visit the Visva Bharati University.