09/06/2021
Big blow to Congress ahead of UP elections, Jitin Prasada, team Rahul joins BJP
New Delhi: Assembly elections in UP are approaching. Before the elections, a big leader of Congress has joined the BJP and this is a big setback for the Congress party. Former Union Minister Jitin Prasada, who was once close to Rahul Gandhi, joining the BJP is pointing to infighting in the party. Prasad met Union Home Minister Amit Shah at his residence on Wednesday morning before joining the BJP. He also met Union Minister Piyush Goyal before joining the BJP.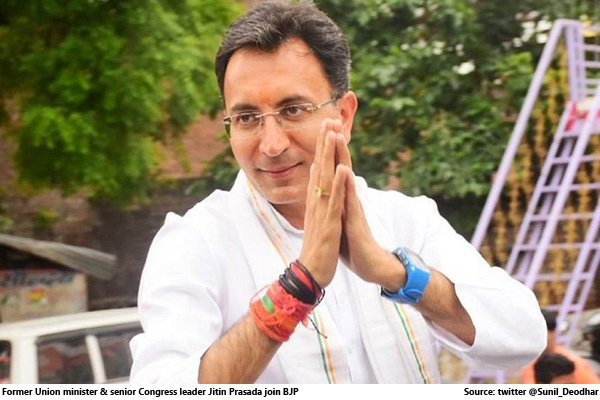 Earlier, BJP MP and spokesperson Anil Baluni had tweeted saying that a well-known personality will join the party today at 1 pm at the party headquarters in Delhi. Prasad told reporters after joining the BJP that it was really the only national party which functioned in an institutionalized manner, while all others were about certain people or confined to specific areas. He also praised Prime Minister Narendra Modi for the leadership of the country and other senior leaders of the party.
Observing that politics is for public service, Prasad said he realized that he could not do the same in Congress and protect the interests of the people. The 47-year-old leader will be the second high-profile former aide of Rahul Gandhi to join the BJP since the departure of Jyotiraditya Scindia last year. In 2019, he had denied the rumors that he was leaving the Congress.
Prasad comes from a well-known Brahmin family from Uttar Pradesh and served as the Congress in-charge of West Bengal before joining the BJP. His father Jitendra Prasad was a famous Congress leader.
Congress's bad condition in Uttar Pradesh and he himself lost the Lok Sabha elections twice in a row. Prasad's decision to join the BJP may help him politically at a time when the saffron party is working day and night to increase its vote share in preparation for the assembly elections.
Party sources said it would also help the BJP to channelize Brahmins, who are said to be unhappy with the party in Uttar Pradesh, in the politically important state of India.