09/01/2022
Big win for BJP in Chandigarh mayoral election, AAP created ruckus over one vote being invalid
BJP's Sarabjit Kaur becomes Mayor of Chandigarh, marks 'tick mark' ineligible to vote for AAP An AAP councilor was suspected of cross-voting in favor of BJP for the election of Senior Deputy Mayor.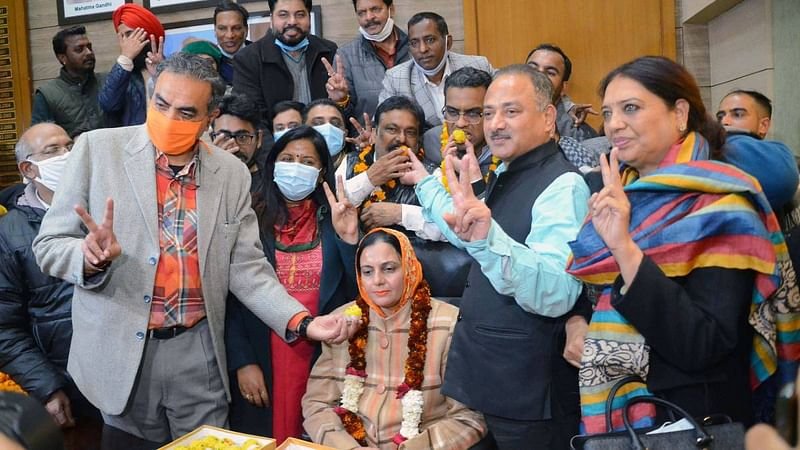 New Delhi: Despite winning fewer seats than nearest rival Aam Aadmi Party (AAP) in the municipal elections on Saturday, the Bharatiya Janata Party (BJP) won all three top posts — mayor, senior deputy mayor, and deputy mayor — in the Chandigarh Municipal Corporation. But won. The results of which were declared on December 27.
For the mayor's election, for which elected councilors cast their votes, BJP candidate Sarabjit Kaur won after an AAP vote was declared invalid by Mahesh Inder Singh, the presiding officer appointed by the Chandigarh administration. The vote was explicitly invalidated for a tick mark on the back of the ballot, which is supposed to be secret and anonymous. This angered AAP and started demanding re-election.
But there is more mystery regarding the election of a senior deputy mayor, which the BJP also won – suggesting that at least one AAP candidate has switched alliances.
The results of the Chandigarh Municipal Corporation elections threw a hung house on December 27, with the AAP winning 14 of the city's 35 wards and the BJP 12 – down from 20 in the previous election in 2016.
The Congress won eight seats, but later one of its councilors, Harpreet Kaur Babla, joined the BJP. According to electoral records, Shiromani Akali Dal (SAD) won one ward.
The House has 36 members, including BJP Lok Sabha MP from Chandigarh Kirron Kher, ex-officio members.
BJP won, AAP created ruckus
Seven Congress councilors and one SAD councilor abstained from voting on Saturday. So, 28 members were effectively present to vote for the top three positions in the body – 14 from the BJP and 14 from the AAP.
For the mayor's post, it was a 14-14 vote, and the BJP candidate went on to win it after the one vote in support of the AAP candidate, Anju Katyal, was held invalid.
In that one ballot paper that was held invalid, there was a tick mark-like sign, senior leaders from three political parties that have members in the Chandigarh civic body confirmed to ThePrint.
AAP leaders, however, refrained from naming the candidate, citing rules that demand secrecy in such votes.