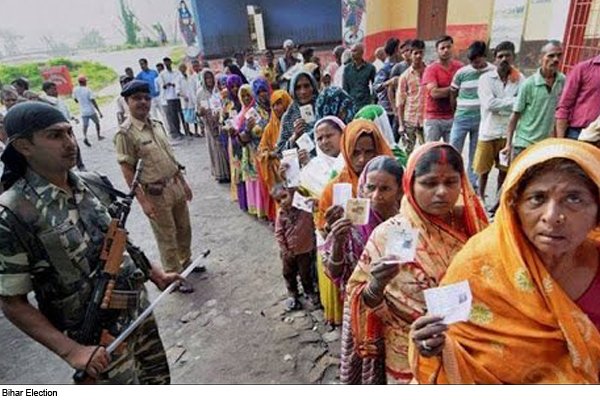 Patna: Polling is going on in 78 assembly constituencies of Bihar in the third and final phase of the state on Saturday, in which 2.35 crore voters will visit the polling station to decide the fate of 1,204 candidates. According to the information, the polling percentage as of 9 am was 4.10 percent. Polling officials said voting began at 7 am at all 33,782 polling stations, where EVM sets and VVPAT machines have been installed and paramilitary forces have been deployed at polling stations for security.
Prime Minister Narendra Modi and Home Minister Amit Shah, including RJD leader Tejashwi Yadav in Bihar, have appealed to people to participate in voting. Queues started at many booths even before the voting started. In the third phase, in addition to the elections in 78 assembly constituencies, voting is also going on for the Valmikinagar parliamentary constituency by-election.
Presiding Officer dies
Presiding officer Kedar Rai died of a heart attack at booth number 190 of Katra in Muzaffarpur. On the other hand, a polling worker Sadanand Rai, posted at Rampur Kanya Middle School in Raghapur block area of ​​Supaul, died of heart attack after the polling started. Death occurred at booth number 246. Sadanand Rai was an asthma patient.
BSF worker dies
Earlier, BSF sub-inspector KR Bhai, posted in security at polling station number 191 of Lalganj assembly constituency in Vaishali district, died of a heart attack on the second day of polling. Sub Inspector Care Bhai was posted in Gujarat BSF. He was a resident of Vadodara city of Gujarat state.
At the same time, during the first phase of voting, two died in two different places during the voting process. First death: A middle-aged man who came to vote in Udaipur village of Karakat assembly of Sasaram died at the polling station. At the same time, a polling agenda of the BJP was killed by a heart attack at a polling station in Nawada.
EVM malfunction complaints
Polling has not started yet due to poor EVMs at the middle school Chakla North Polling Station No. 240 at Dahriya Panchayat of Umbalpur Block, Supaul. Polling was interrupted due to malfunctioning of EVM at booth number 119 in Muzaffarpur. Polling has been disrupted due to poor EVMs in booth number 45 Panchayat Sarkar Bhawan Majhari of Nirmali Assembly in Supaul district. Earlier, polling started at Madhapura's Rasbihari High School polling station about half an hour late. Polling was delayed at Saharsa at polling station number -149 due to technical snag.
Also read in Hindi: Bihar Election: 78 विधानसभा क्षेत्रों में मतदान जारी, 2 पोलिंगकर्मियों की हार्टअटैक से मौत