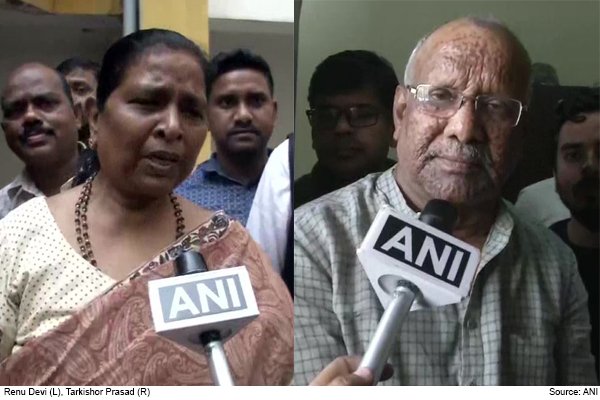 Patna: Nitish Kumar was sworn in as the Chief Minister of Bihar for the seventh time on Monday – his fourth consecutive term began in the presence of top NDA leaders, including Union Home Minister Amit Shah and BJP National President. BJP leaders Tarkishore Prasad and Renu Devi were also sworn in as deputy chief ministers of Bihar. 69-year-old Nitish Kumar is the longest serving Chief Minister of the state. He remained in the post of CM continuously except for the period from November 2005 to 2014-15.
However, after Tarkishore Prasad was elected BJP Legislature leader and Renu Devi the deputy leader, the discussion intensified that both Bihar deputy deputies could be made CM, which proved to be correct. Politics experts believe that the BJP has played these political bets to strengthen its hold on the Vaishya community and the Backward Classes in Bihar. Tarkishore hails from the Vaishya community, while bringing Renu Devi forward is seen as a strategy to send a political message to women with a backward class.
Let me tell you that there was no discussion of the names of Tarkishore Prasad, a 4-time MLA from Katihar and Renu Devi, a legislator from Bettiah, but after both the names came up after the meeting of the NDA MLAs, everyone was surprised, Renu Devi even before The party has held important posts like National Vice President, but Tarkishore has been elected for an important post for the first time. The Legislature leader is considered the face of the party. However, both Tarkishore and Renu Devi are considered very important for the political equation of the party's old and BJP's future in Bihar.
The Vaishya community is considered to be the core votebank of BJP not only in Bihar but in the whole country. This is the reason that Tarkishore Prasad has been brought to the fore after Sushil Modi's removal from the post of Deputy CM. The Tarkishore hails from the Vaishya community and are considered leaders close to Sushil Modi. Keeping in mind that BJP cadre voter Vaishya may not fall apart after the removal of Sushil Modi, the party has adopted a strategy to bring Tarkishore Prasad as the Legislature leader, which will prove to be very successful in the future. is.
BJP has emerged as the largest party in NDA in Bihar. Now to further strengthen this stance, BJP has made its move towards becoming the largest party in Bihar. The BJP is eyeing the backward and female vote banks of Bihar. Keeping this equation in mind, Renu Devi has been chosen as the deputy leader of the BJP Legislature Party. Renu Devi coming from Nonia caste of Ati backward community was also considered as a strong claim to become Deputy CM.
Also read in Hindi: बिहारः तारकिशोर-रेणु देवी बने डिप्टी सीएम, आगे क्या होगी भाजपा की रणनीति!