New Delhi: West Bengal elections are due in early 2021. Before the assembly elections, the Trinamool Congress suffered a major setback. TMC MLA Suvendu Adhikari has resigned from his post on Wednesday. Suvendu arrived in the Assembly to submit his resignation, but in the absence of the speaker, he submitted his resignation to the Secretariat. He resigned from the state cabinet shortly before. There was speculation that he might join the BJP after Suvendu resigned as Bengal's transport minister. However, he denied these reports at the time.
On the other hand, after the resignation of Suvendu Adhikari, Bengal BJP chief Dilip Ghosh said that every day TMC leaders are leaving the ruling party and joining BJP. There is no democracy in TMC, no one has the freedom to speak there. In such a situation, the leaders there are getting upset and joining the BJP. Let us tell you that there is speculation that Suvendu Adhikari is also in talks with BJP. There is a discussion in the political circles that going to Suvendu is like breaking into the TMC Fort.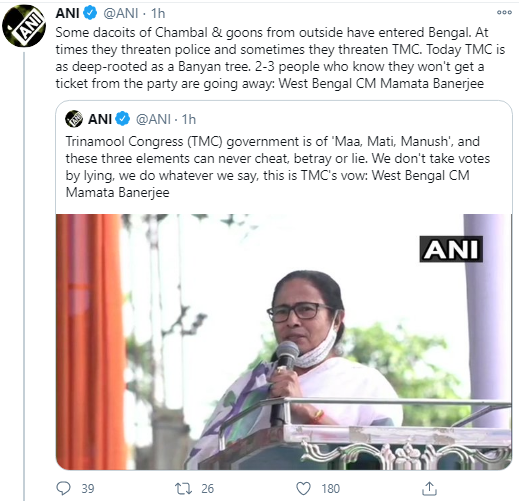 After the resignation of Suvendu Adhikari, Bengal CM Mamta Banerjee reacted, saying, "Some dacoits of Chambal and outside goons entered Bengal. Sometimes they threaten the police and sometimes they threaten the TMC. TMC is deep like a banyan tree. 2-3 people who know they won't get tickets from the party are going away. He went on to say, "The Trinamool Congress government belongs to Maa, Mati, Manush", and these three elements can never cheat, betray or lie. We don't lie and take votes, we do what we say, this is TMC's resolve. "
After Suvendu's resignation, BJP vice-president Mukul Rai said that the day Suvendu Adhikari resigned as minister, I had said that he would be happy if he would leave TMC and we would welcome him. Today he has resigned from the membership of the West Bengal Legislative Assembly and I welcome his decision.