23/12/2020
BJP emerged the single largest party with 75 seats, Gupkar Alliance 110 seats, Congress 26, independent 49
Srinagar / Jammu: The seven-party People's Alliance has won seats in the first District Development Council elections in Jammu and Kashmir for the Gupkar Declaration (PAGD) led by Farooq Abdullah.
Till the last report came, the PAGD had won or was leading in 112 out of 280 seats on Tuesday, after which the BJP emerged as the single largest party as it won 73 seats including three in the Kashmir Valley for the first time. The Election Commission of the Union Territory said that the People's Alliance secured 100 seats for the Gupkar Declaration (PAGD) and was the lead in 12 others.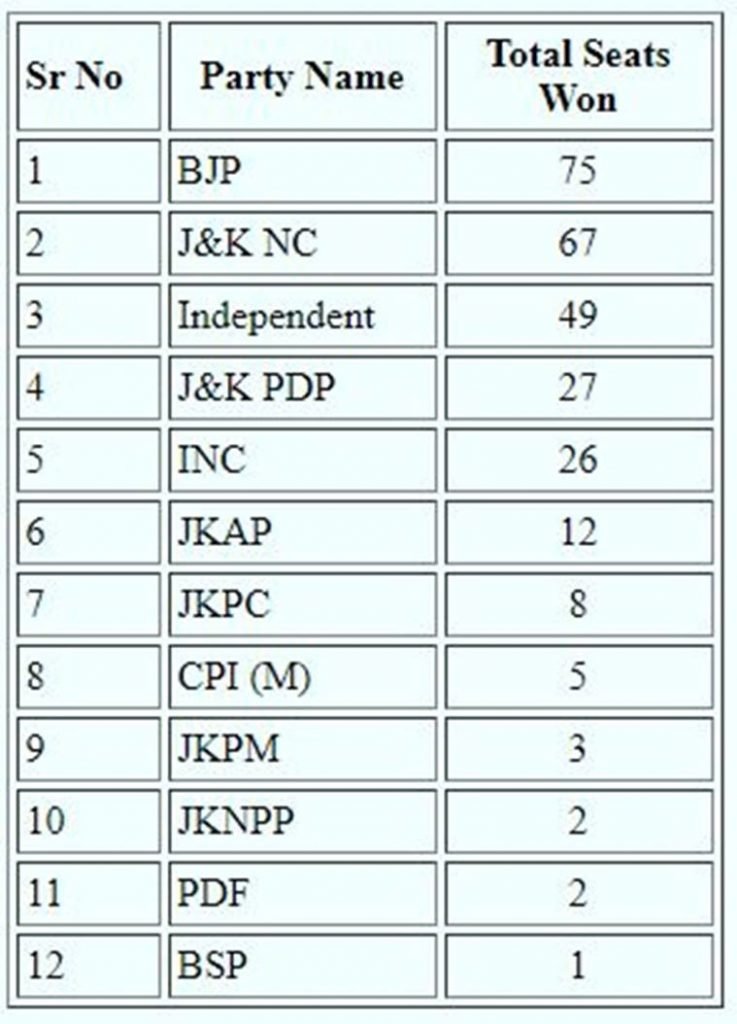 The People's Alliance for Guptkar Manifesto (PAGD), a group of seven parties, took a crucial lead in the first-ever District Development Council (DDC) elections in Jammu and Kashmir on Tuesday, even as the alliance's main rival, the BJP in the form of. Voting took place in several districts in the Jammu region, encroaching some in the Kashmir Valley.
In the results announced for 276 of the 280 seats that went to polls , the PAGD has won 110 while the BJP bagged 75 . Party-wise in the PAGD, the NC has won 67 seats, the PDP 27, JKPC 8 and CPIM 5 seats. The independents have won 49 and the Congress 26 seats, among others. The Centre-backed JK Apni Party has won 12 seats so far, according to the authority.
However, it is the independents – 40 of whom have already won – who will call the shots in many places, especially in the Valley, as the majority have outscored any key players in those districts. According to reports, another 30 independents were leading in the counting.
The DDC election was the first electoral exercise since the abolition of Article 370 on 5 August last year. Polling was held in 280 seats in each of the 20 districts of the union territory.
Forty-seven independents, out of mainly disgruntled leaders of all political parties, have been declared winners and are leading in six other seats.
The Jammu and Kashmir Appney Party (JKAP) put up a disappointing performance by winning 12 seats. The Congress has won 22 seats.