09/09/2020
BMC razes Kangana's house, office. Is Maharashtra's Aghadi Govt playing with fire?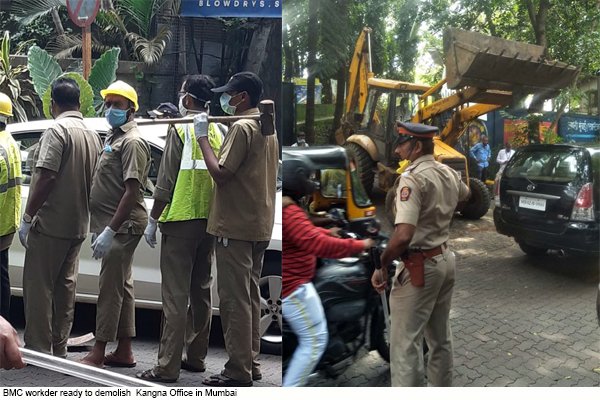 New Delhi: Amid the running feud between actor Kangana Ranaut and the ruling Shiv Sena in Maharashtra, the BMC has demolished several constructions at Kangana's residence and office in Mumbai. Even as she landed in Mumbai with Central security to dare the dispensation despite having been 'advised' to stay off, temperatures soared between the authorities and her supporters.
Was the Shiv Sena trying to convey the message that no one would be able to survive in Mumbai by messing with the Thackerays? Was it a message also for those living who have come to Mumbai for work?
Meanwhile, Kangana fearlessly took on the State Government and unleashed a series of statements against it. "Aaj tune mera ghar toda hai; kal tera ghamand tootega. Samay kisi ke liye bhi hamesha ek sa nahi rehta hai," was her veiled warning.
Asked about the BMC action targeting only Kangana's house when there are hundreds of violators in the area, a senior official said: "We gave her 24 hours to respond to the notice, but she did not respond." The officer said that there were several unauthorised constructions on her premises but failed to explain why the other violators weren't targeted or the urgency that prevented the corporation from giving her time to respond beyond 24 hours.
Earlier, the BMC team along with a JCB and hammer arrived to pull down Kangana's office. The demolition of this office started shortly after 11 am. The BMC team arrived at her Bandra's Pali Hill bungalow and demolished the alleged illegal structure in Kangana's office.
A large number of BMC employees and policemen were seen in several pictures and videos that emerged from outside Kangana's office.
Meanwhile, Kangana approached the Bombay High Court against the action of BMC and has won a reprieve. The court has stayed the demolition activity for now. Meanwhile, Kangana's lawyer claimed that property worth crores was damaged in the BMC's "revengeful" action and is demanding suitable compensation for the same.
Sharing pictures of the demolition action at her house on her Twitter account, Kangana wrote: "Babur and his army at my Ram Mandir." She claimed that it was an act of vendetta and State terror and that the wheel of time would ensure that the Aghadi Government is crushed.
She wrote anothe tweet: "I am never wrong and my enemies prove it again and again. This is why my Mumbai is now PoK…I feel unsafe."
Reacting to the demolition of her office, Kangana tweeted: "Ayodhya is the first film announced in Manikarnika films. It is not a building for me, Ram temple itself. Today Babur has come here. Today history will repeat itself. Ram temple will be broken again but remember Babur, this temple will be built again. This temple will be built again. Jai Shri Ram, Jai Shri Ram, Jai Shri Ram. "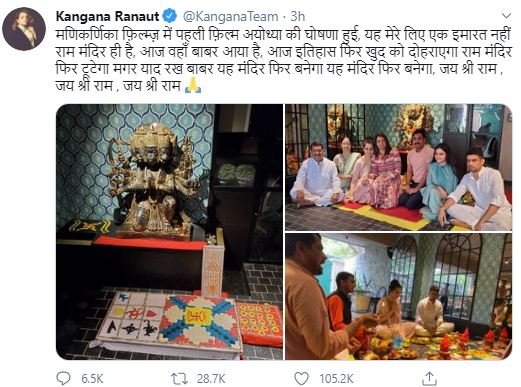 Massive public support is pouring in for the Manikarnika actor, especially as the BMC action is being seen as vindictive for her speaking out against the Maharashtra government's inaction in the Sushant Singh Rajput death case and its apparent attempts to shield certain influential individuals who may have been responsible for the incident.
Read In Hindi: आखिर कब तक चलेगी शिवसेना की दादागिरी? कंगना का ऑफिस किया ध्वस्त