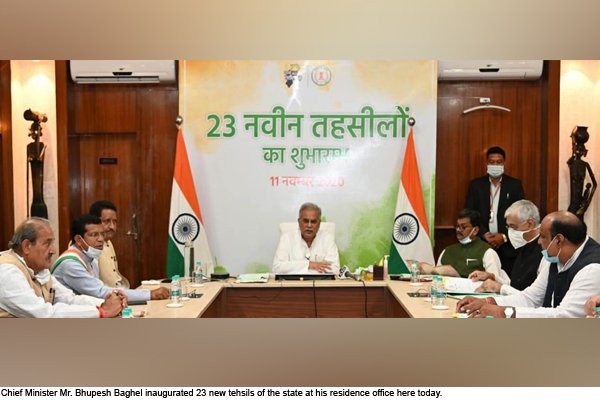 Raipur: Chief Minister Mr. Bhupesh Baghel has inaugurated 23 new tehsils in the state, from his residence office today. On the occasion Chief Minister said that formation of these new tehsils would improve revenue administation in the state and would also accelerate the development works. Common people would be able to access administration facilities more conveniently. Besides, farmers and beneficiaies of public welfare schemes would be able to avail better services. At this inaugural programme, Chief Minister approved construction of official buildings for 23 new tehsils and four old tehsils. He also announced sanction of one vehicle for each of these districts.
Chief Minister has sanctioned Rs 19 crore 20 lakh for construction of official buildings for 27 new-formed tehsils and Rs one crore 75 lakh for vehicles for these tehsil offices. Each of the tehsill office would be constructed at the cost of Rs 71.12 lakh and Rs6.50 lakh would be sanctioned to each of the office for purchasing vehicle.
These 23 new tehsils have been formed for convenience of common people in the 15 districts of the state. These include formation of two new tehsils Kharora and Gobra Navapara in Raipur district, one new tehsil Bhakhar in Dhamtari district, two new tehsils Bori and Bhilai-3 in Durg district, one new tehsil Gandai in Rajnandgaon district, Arjunda tehsil in Balod district, Sakri, Ratanpur and Belgahna (three) tehsils in Bilaspur district, Lalpur thana (one) tehsil in Mungeli district, Saragaon, Bamhnidih and Baradwar (three) tehsils in Janjgir-Champa district, Darri and Hardibazar (two) tehsils in Korba district, Darima (one) tehsil in Sarguja district, Ramchandrapur and Samri (two) tehsil in Balrampur-Ramanujganj district, Kolhari (one) tehsil in Koriya district, Latori (one) tehsil in Surajpur district, Sanna (one) tehsil in Jashpur district, and Gaadiras (one) tehsil in Sukma district. Notification of the newly-formed districts have been published in the gazette dated November 11 i.e. today.
The inaugural programme for new tehsils was attended by Vidhan Sabha Speaker Dr Charandas Mahant, Health Minister Mr. TS Singhdeo, Revenue Minister Mr. Jaisingh Agrawal, Industry Minister Mr. Kawasi Lakhma, MP Mrs. Jyotsana Mahant, MLAs- Mr. Mohan Markam, Mr. Dhanedra Sahu, Mr. Purushottam Kanwar, Mrs. Rashmi Singh, Mrs. Anita Sharma, Chairman of Chhattisgarh Mineral Development Corporation Mr. Girish Dewangan, State Food and Civil Supply Corporation Mr. Ramgopal Agrawal, Advisor Duo to Chief Minister Mr. Rajesh Tiwari and Mr. Vinod Verma.
Chief Minister said in his address to the programme that after formation of the new government, new district Gaurela-Pendra-Marwahi and 25 new tehsils were announced on August 15, 2019. On February 10, 2020 Gaurela-Pendra-Marwahi district was made and development works worth Rs 500 crores were sanctioned for this new district. These development works accelerated the development of this district. Out of the 25 new tehsils announced before, 23 tehsils were inaugurated. On the occasion, Chief Minister congratulated the people of these newly-formed tehsils. Extending hearty Diwali greetings to peoople of the state, Chife Minister said that this time, COVID-19 pandemic has overshadowed our festivals. Hence, we should take all the precautions to avoid infection, while celebrating our festivals enthusiastically.
Chief Minister has requested people of the state to purchase diya, idols, and materials used in puja from local vendors and craftsmen. He appealed them to buy goods and food items manufactured by the self-help groups, as this would empower the economy of the state. Chief Minister told that the all kinds of market charges have been waived off for the traditional vendors. District Administration and Muncipal Corporation have been directed to make seating arrangements for vendors near stadium, market, grounds owned by municipal body/government and road marking on main roads of the city, apart from vending zone. On the occasion, Vidhan Sabha Speaker Dr Charandas Mahant, Health Minister Mr. TS Singhdeo, MP Mrs. Jyotsana Mahant, Revenue Minister Mr. Jaisingh Agrawal, MLA Mr. Dhanendra Sahu, Mr. Mohan Markam also addressed the programme and extended best wishes for the newly-formed districts. Meanwhile, Revenue Secretar Ms Reeta Shandilya was also present.
It is noteworthy that as per the vision of Chief Minister Mr.Bhupesh Baghel, state government has fulfilled the long-pending public demand of reorganizing tehsils.Formation of these new tehsils would make it easier for villagers and farmers to get their revenue affairs redressed.