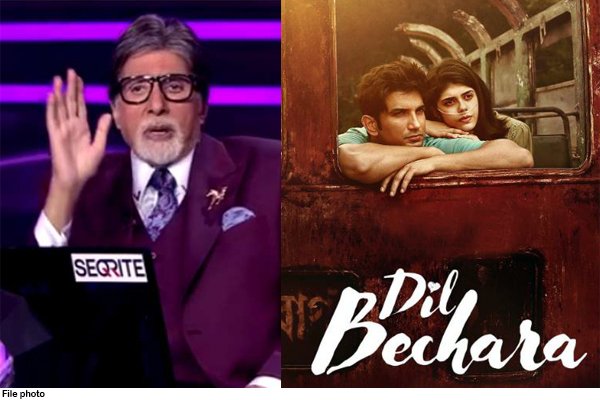 New Delhi: The 12th season of Kaun Banega Crorepati has started. This show is very well liked in India and now it is expected by Sony TV that this show will break all the records of TRP this time too. The show was in the news even before KBC started its 12th season. But there is a lot of discussion on social media about its first episode. Actually something happened that Amitabh Bachchan asked a contestant a question related to Sushant Singh Rajput's last film 'Dil Bechara', after which he left the Contestant show.
During the game at KBC, Amitabh asked a contestant named Aarti Jagtap to play the lead role in 'Dil Bechara' and the actress who made her Bollywood debut with the film. Meanwhile, the title track of the film also played in the background. Aarti answered this question correctly, but he left the game in the middle. Aarti may have been a fan of Sushant, who became emotional on this question and left the show in the middle. By the way, let us tell that Aarti won 6.40 lakh rupees from this show.
Like other live shows, KBC-12 also does not have a live audience. It is being said that the schedule is going to be very tight. With this, masks, sanitizers and social distancing will also be taken care of in view of the corona virus epidemic. Technique has been resorted to to avoid getting in contact with anyone.
In the new season of KBC, the punchline has been changed from setbacks to less. This season, there will be many people who have suffered a lot due to lockdown due to Corona virus and Corona Warriors have also been included in the show this time. Along with this, the life line with 'audience poll' has been changed in the show, because when there is no audience, how is the life line. The audience poll life line has been renamed as 'Video a Friend', in which the question will be answered through video. The entire process of registration for KBC-14 has been done online.
Also read in Hindi: KBC-12: आखिर क्यों छोड़ा कंटेस्टेंट ने बीच में ही शो…