05/04/2021
Corona Pandemic: Government tightens on rising cases, night curfew in Maharashtra since Monday
Mumbai: Due to the increasing number of corona infections in Maharashtra, the state government has announced nocturnal curfew to curb the spread of the virus.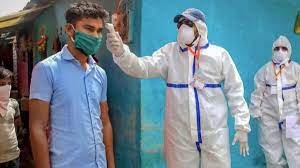 In Maharashtra, curfew will be imposed from 8 am to 7 am from Monday (5 April). Addressing a press conferencing after the cabinet meeting, Minister Aslam Shaikh said that only essential services would be allowed during the night curfew from 8 am to 7 am.
Restriction imposed
Sheikh said that restaurants and hotels would only be allowed takeaway and parcel services and no dine-in service would be available. For offices, employees will have to work from home, excluding insurance, mediclaim, electricity and civil offices.
He said, "Corono virus cases are increasing in Mumbai and Maharashtra. Several decisions have been taken in the meeting today. Night curfew will be imposed from 8 am to 7 am. Only essential services will be allowed. The restaurant is only allowed for takeaway and parse services. Theaters will be closed. Detailed SOP will be released soon.
The decision comes after the Maharashtra government held an important cabinet meeting on Sunday (April 4, 2021), stating that statewide complete lockdown was not required, although necessary precautionary measures would be implemented.
In a meeting chaired by Chief Minister Uddhav Thackeray, it was decided to impose stringent restrictions by 30 April. After the cabinet meeting, Minority Affairs Minister and NCP leader Nawab Malik told reporters that the night curfew would continue and the restrictive orders issued under section 144 would continue to apply during the day during the week.
"Government offices will be allowed to operate at only 50 percent of their capacity," he said. Industries and production sectors, vegetable markets will operate with standard operating procedures; hygienic and construction sites will operate if there is housing facilities for workers. "
Theaters, drama theaters will remain closed, while film and television shooting will continue if there is no crowd. Parks and playgrounds will also remain closed. Thackeray said that religious places will have to follow SOP, public transport system will remain functional.
Meanwhile, Maharashtra has recorded an increase in 49,447 new cases of infection and 277 deaths in the last 24 hours. At present there are 4,01,172 active cases in the state, out of which 9,090 cases have been reported from Mumbai, out of which 62,187 are active cases. With deaths in the last 24 hours, the death toll from Corona in Maharashtra has risen to 55,656.