10/03/2021
Corona Update: cases increase in Maharashtra, Kerala, Punjab, Karnataka, Gujarat and Tamil Nadu
New Delhi: Six states Maharashtra, Kerala, Punjab, Karnataka, Gujarat and Tamil Nadu are witnessing an increase in Covid cases daily and 17,291 cases of Corona have been reported in the last 24 hours. These six states account for 83.76 percent of the new cases.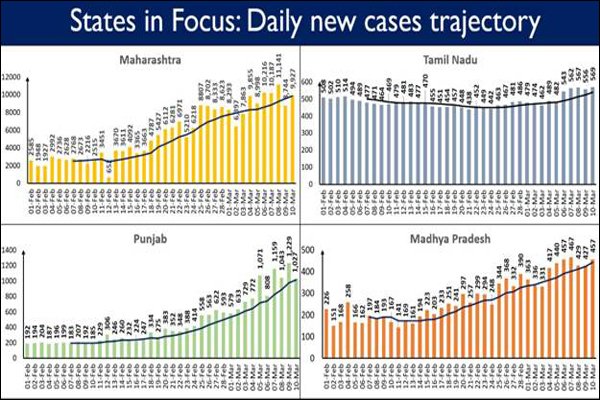 Maharashtra has the highest number of new cases being reported every day and the number is 9,927. After this, 2316 cases have been registered in Kerala and 1027 in Punjab. Eight states are seeing a steady increase in new cases on a daily basis. The total active case load in India at this time is 1.84 lakh (1,84,598).
According to the provisional report received till 7 am today in various states and union territories of the country, more than 2.43 crore (2,43,67,906) corona vaccine has been installed by 3,39,145 sessions.
These include 71,30,098 HCW (first dose), 38,90,257 HCW (second dose), 69,36,480 FLW (first dose) and 4,73,422 FLW (second dose), 8,33,526 beneficiaries who are over 45 years of age and There are 51,04,123 beneficiaries (first dose) who are suffering from other diseases (first dose) and those above 60 years of age.
More than 13.5 lakh (13,59,173) vaccine doses were given till the 53rd day of the vaccination campaign (March 9, 2021). Of these, 10,60,944 beneficiaries were given the first dose in 52,351 sessions (HCW and FLW) and 2,98,229 were given the second dose of vaccine to HCW and FLW.
Daily testing of corona samples is also increasing continuously and the total number of corona test trials in India has exceeded 220 million (22,34,79,877).
The daily positiveness rate in the country is 2.43 percent per day.
There have been 133 deaths from Covid in the last 24 hours.
Five states account for 77.44 percent of new deaths. Maharashtra has the highest number of 56 deaths. 20 people have died in Punjab and 16 in Kerala.
No deaths have been received from Corona in 19 states / UTs in the last 24 hours.
These include Rajasthan, Andhra Pradesh, Chandigarh, Odisha, Uttarakhand, Jharkhand, Bihar, Puducherry, Lakshadweep, Sikkim, Ladakh (Union Territory), Manipur, Meghalaya, Nagaland, Daman & Diu, Dadra & Nagar Haveri, Tripura, Mizoram, Andaman & Nicobar Islands and Arunachal Pradesh are included.