05/01/2021
'Dhoom' Uday Chopra tweeted about suicide, wrote- this is a good option to commit suicide
Bollywood actor Uday Chopra has not appeared in any film for the last 7 years. His elder brother Aditya Chopra is the doer of Yash Raj Films but Udaya cannot find work in films. Uday does not appear in any Bollywood party nor any award show. Despite being the son of Yash Chopra, he is anonymous. Uday Chopra turns 48 on January 5. A day before Batharde, Uday Chopra wrote something on Twitter which after reading it seems that he is very upset.
Uday's tweet is intimidating, he wrote – 'For a few hours, I de-activated my Twitter account. It felt like I was close to dying. Was phenomenal! I think this is a good option to commit suicide. I can do it permanently soon. I'm not well I am trying but so far I have failed. "This tweet was made by Uday a few hours before his birthday and also deleted it.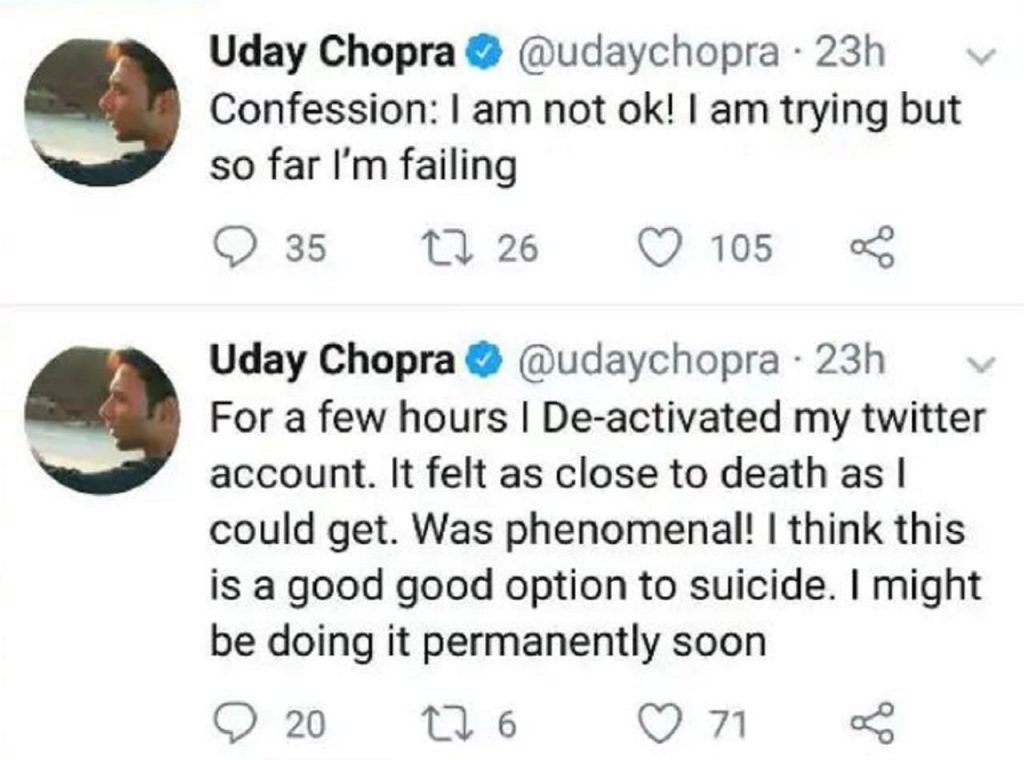 Various things are happening on this tweet of Uday. It seems that he is very disappointed with the failure in films as an actor. Uday Chopra, who is 48 years old, has not even married. Uday Chopra, who made his debut in Hindi cinema as an assistant director, made his debut with the film Mohabbatein. It was a multi-starrer film. Apart from Shahrukh, Aishwarya and Amitabh Bachchan, the entire starcast of the film could not show anything special in their career. Uday received a lot of love from the audience in the film Dhoom. Also, his character was also well liked. The last time he appeared in the film Dhoom Series was in 2013. Uday Chopra was seen in the film with his stunning body and abs.
Uday, who remained in the limelight for his love life, was named after Bollywood actress Nargis Fakri. Let me tell you that they dated each other for almost two years. After which both of them broke up. But both of them never accepted this thing in front of the media. Apart from this, he has also been in the news for his tweets many times. At the same time, there was a time in the actor's life when he was going through financial crisis.
Despite being the younger son of famous film maker Yash Raj, Uday did not get that fame in the industry. Despite owning billions, Uday saw a lot of turmoil in his life and there was a time when he had to sell his house too. The villa was bought by Uday from a corporate for $ 3.025 million and sold it for 25.3 million. However, it was not revealed why Uday Chopra sold his beautiful palace.