Read in Hindi: वाराणसी में गंगा प्रदूषण पर ड्रोन से करेंगे निगरानी, ​​कंटेनमेंट जोन में जरूरतमंदों को दवा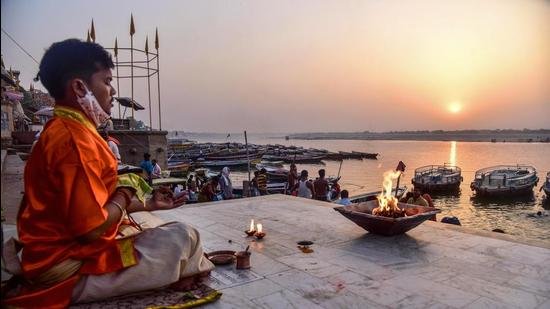 VARANASI: Chief Minister Yogi Adityanath on Tuesday morning launched four drones in Varanasi to curb pollution in the Ganges, keep a watch in control areas and deliver medicines and other essentials to the needy.
Officers performed drone operations in front of the CM at the Community Health Center in Shivpur and told them that these drones could move at a speed of 10–12 m / s and fly to a height of 120 m.
Varanasi Municipal Commissioner Gaurang Rathi said, "We have arranged four types of drones for efficient surveillance during the second wave of Kovid-19 in partnership with Garuda Aerospace Private Limited, Chennai under the Smart City project. These drones equipped with high resolution cameras will help in monitoring the river Ganges and the ghats on its banks.

Videos and photographs drawn by the drone will enable officers to monitor and help in judicious deployment of personnel and resources and formulate further strategies.
In an emergency, these drones will also deliver medicines and other essentials to the containment zone.
Rathi said the drones are equipped with a public address system and can be used for surveillance in control areas, in addition to relaying administrative orders and spreading awareness in control areas.
"These advanced drones are GPS enabled and therefore can also help in drug kit delivery and actually deliver them to the beneficiaries' hands at their registered addresses," he said.
During the lockdown last year, authorities sanitized more than 2,750 acres of land with the help of drones. Rathi also received the Chief Minister's appreciation for using drones efficiently for these purposes.
Officials said the drone used in sanitization consisted of a 10-liter tank filled with sodium hypochlorite solution. Drones are used for sanitization in containment zones where it is not possible to carry heavy machines.
Smart city officials said monitoring through drones would help curb pollution of the holy river. In the past fortnight, several bodies were found floating in the river Ganga, which led to a queue. Large-scale patrolling has been started and police teams have been deployed on boats to prevent the carcass immersion in the river and the administration has made arrangements to help the resource-deficient families in proper cremation of the bodies.