12/02/2021
Explosion at firecracker factory in Tamil Nadu, 11 killed, 36 injured
New Delhi: At least 11 people were killed and 36 injured in an explosion in a firecracker factory in Virudhunagar district of Tamil Nadu, about 500 km from Chennai. went. Prime Minister Narendra Modi has expressed sorrow over this explosion by tweeting. According to police, the fire broke out when the chemical was being mixed to make crackers. However, the cause of the fire is yet to be ascertained.
PM Modi tweeted and expressed grief over the incident and said, "It is sad to see a fire in a firecracker factory in Virudhunagar, Tamil Nadu. My condolences to the bereaved families in this hour of grief. I hope the injured recover soon. The administration is working to help the affected people in this incident. "At the same time, the Prime Minister tweeted another and wrote," For the families of those who lost their lives due to fire in Virudhunagar, Tamil Nadu, deceased from the Prime Minister's Relief Fund. Compensation of 2 lakh rupees has been sanctioned to the families of. 50,000 will be given to the seriously injured.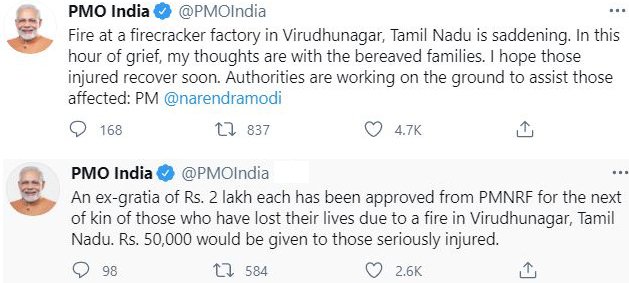 Rahul Gandhi appealed for help from the state government
Expressing sorrow over the accident, Congress leader Rahul Gandhi has appealed to the state government to help the injured and rescue those trapped inside.
Explain that more than half a dozen fire engines are present at the scene and an attempt is being made to control the fire, but there is a frequent explosion inside the firecracker factory. Initial reports said that about 24 people were injured in the blast.
According to the information, the accident occurred in the afternoon. The blasts continued for a long time after the fire, making it difficult for rescue teams to get close to the scene and had trouble extinguishing the fire. Firefighters from Sattur, Sivakasi and Vembakottai fire stations reached the spot to extinguish the fire.