Rajnandgaon: Under Mukhyamantri Haat Bazar Clinic Scheme, there is availability of accessible health services to the villagers of remote areas. The people coming to the Haat Bazaar have now become easier due to the benefits of health checkup and treatment from the clinics in the Haat Bazaar itself. Villagers who are coming for the purchase of daily use items in the Haat Bazaar operated in remote areas of remote areas of Manpur, Mohla, Ambagarh outpost in Rajnandgaon district are benefiting from this scheme. With the encouraging results of the beneficiaries benefiting from the scheme, the Chief Minister's Haat Bazaar Clinic Scheme has been expanded to 84 Haat Bazaar in the entire district.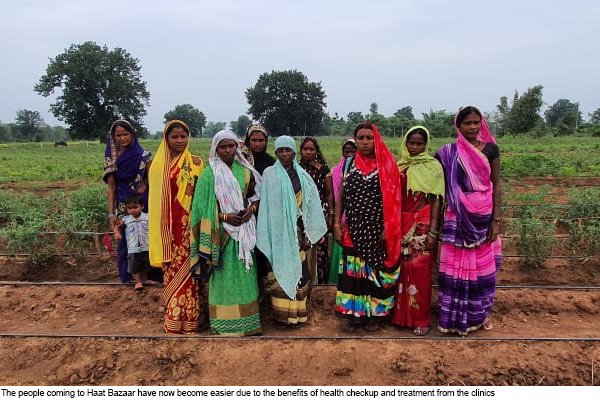 With the implementation of Mukhyamantri Haat Bazar Yojana, the health services of Chief Minister Shri Bhupesh Baghel and Health Minister TS Singhdev are expanding to the last person, leading to the expansion of universal healthcare. The Mukhyamantri Haat Bazaar Clinic Scheme is proving to be an important scheme in achieving the standards of health indices by getting all the counseling for the detection and treatment of diseases from the initial level. Presently, due to Corona infection, all the precautions and protocols required are being investigated and treated by the medical team. Due to the availability of health facilities at the local level, the villagers are also getting facilities for traveling for treatment.
Under the scheme, the medical team is reaching people with necessary medicines and equipment and treating people. Along with this, other investigations are also done on the spot. Free medicines are also being given to the people here. A mobile application named Chief Minister Darpan has also been created by the government for data retention and analysis. In which the progress of the scheme can be analyzed by doing quick reporting.
The benefits of the campaign can be gauged from the data that the villagers will treat in the clinics. Till November, 1 lakh 15 thousand 554 people have been benefited by the team of Health Department in 84 hot markets in the district. Malaria screening, HIV test, TB test, hemoglobin test, leprosy test, high blood pressure test, diabetes test, pregnant women test, infant immunization, ophthalmological examination, cancer test, diarrhea test and treatment of common diseases Is going.