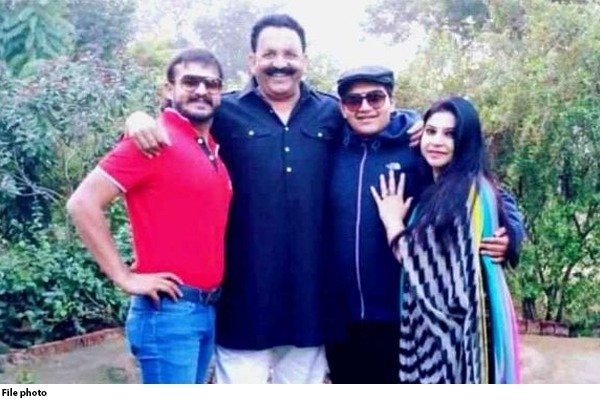 Gangster on son Mau MLA Abbas Ansari and his wife Afshan; After Mukhtar was imprisoned, both were handling the criminal empire; Attachment notice will be posted, strict action will be taken if you do not appear in court
Bahubali mafia don Mukhtar Ansari's wife and son have been declared absconders. The police allege that after Mukhtar went to jail, his wife Afshan Ansari was handling his criminal empire.
Police have also imposed Gangster Act on Mukhtar Ansari's son and Mau MLA Abbas Ansari along with his wife Afshan Ansari. Both have also been declared fugitives.
Mukhtar is in Banda Jail
Significantly, mafia don Mukhtar Ansari is currently lodged in Banda Jail. While son Abbas Ansari and wife are absconding at this time. To nab both of them, the police raided many places, but success could not be achieved. For this, SP Mau has declared both of them as fugitives. Raids have been conducted at all the locations of Mukhtar's home district Ghazipur.
However, Ansari's relatives were not found there, after which a notice was pasted on the door. At the same time, SP Avinash Pandey said that he has not been requested, but has been warned that if he does not appear before the court, then strict action will be taken as per the rules.
Son Abbas is MLA
Please inform that Mukhtar Ansari's son Abbas Ansari is an MLA. Superintendent of Police Avinash Pandey said that cases have been registered against Mukhtar Ansari's wife Afsa Ansari and their MLA son Abbas Ansari in various cases. They are declared fugitives. The SP said that the police raided four places in Ghazipur to present him in the court, but his family is still absconding.
SP Pandey said that in the arms license case, the court had issued summons to Mukhtar's son Abbas Ansari but he did not appear in the court. After this ABW is released. According to NBW, the notice was not complied with after which the court declared him a fugitive.
The SP said that NBW was also going on against Mukhtar Ansari's two brothers-in-law Sarjeel Raza and Anwar Sahajad. If they do not follow the order of the court, strict legal action will be taken. If the legal process is not followed, attachment will be done, he said.