New Delhi: Lakhimpur Kheri district of Uttar Pradesh has been a topic of discussion all over India since last evening. The orgy of savagery was going on in the district and the administration looked helpless. Let us inform that the Deputy Chief Minister had a visit to the district on Sunday, which the farmers were opposing.
Everything was the same, but in the evening, things changed and the protest turned violent. Farmers' organizations have accused Union Minister Ajay Mishra's son Ashish Mishra alias Monu and his supporters of offering carts to the protesting farmers. On the other hand, 4 people including Monu's driver were brutally beaten to death by the furious mob.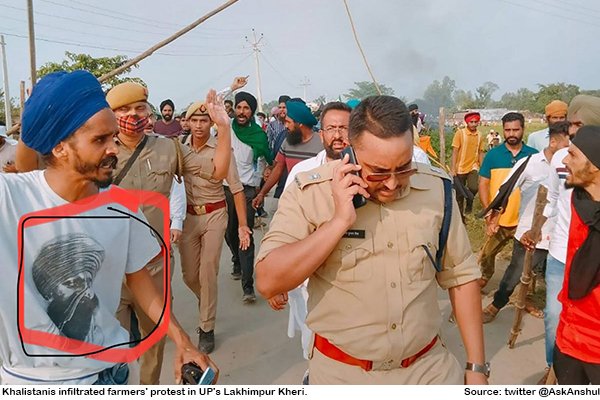 Farmers have been given the status of Annadata in India. But the incident which happened last evening cannot be called farmers. The way they set vehicles on fire and people were brutally beaten up and ran away and killed four people, this work cannot be done by the farmers. Call them farmers or terrorists, who are being called Khalistani supporters. It is clearly visible in the pictures that Khalistani supporters joined the crowd and turned the peaceful demonstration violent, in which 8 people died. The hand of Khalistani supporters is being told behind this work.
This person could have been saved if timely treatment would be provided but instead these fake farmers beaten him up till death for their narratives.
Those 4 farmers could have also been saved if stones weren't thrown at driver.
A need of unbiased investigation.#Lakhimpur pic.twitter.com/O9MAGXsvIu

— Zaira Mirza 💯% +💯 % follow back (@ZairaMirza1) October 4, 2021
Let us inform that in the violent incident yesterday, the driver of Union Minister Ajay Mishra's son Ashish Mishra alias Monu was beaten to death. He kept begging for his life with folded hands, but was brutally beaten to death by a furious mob. The driver got married only a year and a half ago and has a small child.
A video of the driver who was beaten to death is also becoming very viral on social media. It is seen in the video that blood is coming out of the driver's head. He's very nervous. The fear of death is clearly visible in his face and eyes. He is begging for mercy from the crowd standing in front, but the furious crowd does not take pity on him. Just then a person comes and by hitting his head with a stick, he completes his work. Even after that people keep beating him and his other companions continuously.
Mainstream media is not showing complete news from #Lakhimpur.

3 BJP workers including driver of the car also died due to protestors.

Shameless Media & Paid protestors.#Sameonyou https://t.co/aZ17ad2SpN pic.twitter.com/VpGAnRxmmy

— नवीन उपाध्याय🇮🇳 (@navin82upa) October 3, 2021
He pleads to leave with folded hands but no one listens to him. Some people shout, 'Hit it kill it'. In between, there is also the sound of abuses. He begs for his life but no one's heart breaks.
The driver is saying with folded hands Dada-Dada….leave it. Some people in the crowd are forcing him to say that Monu had sent people to kill him. Was told to pick up the car. The driver is saying that Monu had sent but not to board the car. Then some people show him a stick and forcibly ask him to say anything arbitrary. When the driver does not say no, then all the people break on him and beat him badly and kill him.
Lakhimpur Kheri violence: Varun Gandhi writes to Adityanath, demands probe
Bharatiya Janata Party (BJP) MP Varun Gandhi paid his tribute to those killed in the incident and expressed condolences to their families. Varun Gandhi has urged Uttar Pradesh chief minister Yogi Adityanath to take strict action against the culprits of the Lakhimpur Kheri incident and suggested a Supreme Court-monitored probe by the Central Bureau of Investigation (CBI) in a time-bound manner. In a letter addressed to Adityanath, the lawmaker from UP's Pilibhit also paid tributes to farmers killed in the incident and said that ₹1 crore compensation should be given to families of victims. Varun Gandhi requested Adityanath to "identify all suspects in the incident and take strict action against them by registering a murder case under section 302 of the Indian Penal Code." "In this regard, it will be suitable to bring all culprits to justice by a Supreme Court-monitored CBI probe in a time-bound manner," he said in the letter in Hindi on Sunday.
लखीमपुर खीरी की हृदय-विदारक घटना में शहीद हुए किसानों को श्रद्धांजलि अर्पित करता हूँ। इस प्रकरण में उत्तर प्रदेश के मुख्यमंत्री जी से सख्त कार्यवाही करने का निवेदन करता हूँ। pic.twitter.com/e2tE1x4z3T

— Varun Gandhi (@varungandhi80) October 4, 2021
The BJP leader also paid his tribute to those killed in the incident and expressed condolences to their families. "The incident of brutal mowing down of farmers protesting in Lakhimpur Kheri on October 3 is heart-wrenching. It has caused rage and pain among citizens in the country… The incident is unforgivable. Protesters are our citizens. If they have problems with some issues and are protesting within their democratic rights then we should keep restraint and be patient while dealing with them," Gandhi said.