22/07/2021
Farmers' Parliament begins today at Delhi's Jantar Mantar amid monsoon session
ANUP VERMA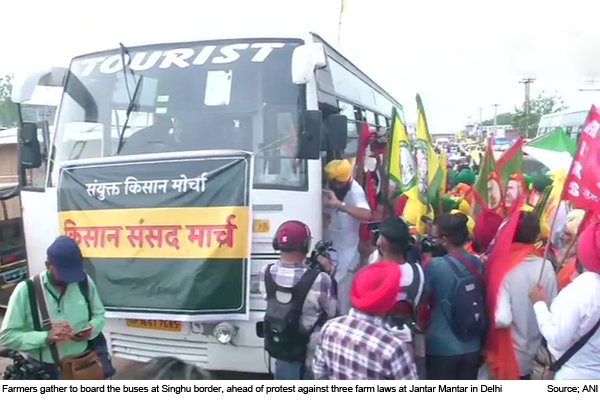 New Delhi: On the one hand the monsoon session of Parliament is going on and on the other hand the Kisan Parliament will run outside the House at Jantar Mantar today. Delhi Police has given conditional approval to the demand of farmers to hold protests in New Delhi during the monsoon session of Parliament. According to the information, after the third round of meeting on Wednesday, 200 farmers have been given permission to organize Kisan Sansad at Jantar Mantar. In view of the non-violation of the directions of the Supreme Court, a middle ground has been taken.
In view of the demonstration of the farmers, Delhi Police has made elaborate security arrangements from the Singhu border to Jantar Mantar. Police have been deployed everywhere. Delhi's Lieutenant Governor Anil Baijal has given special permission to a maximum of 200 farmers to protest till August 9. Sources in Delhi Police said that a group of 200 farmers with police protection will come to Jantar Mantar from Singhu border in buses and protest there from 11 pm to 5 pm.
5-5 members are allowed from each organization
About 40 farmer organizations from across the country are involved in the United Kisan Morcha. In such a situation, instead of allowing it as a group, it has been allowed at the level of individual organizations. 5-5 members of each organization have been allowed to visit Jantar Mantar. All these people will gather at the Singhu border on Thursday morning, from where the Delhi Police itself will bring these people in 5-6 buses and take them to Jantar Mantar by a fixed route. The representatives of farmer organizations sitting on Tikri and Ghazipur border will also have to reach Singhu border first and from there they will have to board the bus.