New Delhi: The farmers have decided to intensify their agitation after the first round of negotiations on agricultural laws were inconclusive. The borders of the national capital are under heavy deployment of barricades and police. Farmers agitating against the new agricultural laws of the center have now blocked the Delhi-Noida border as well. Hundreds of farmers have gathered on the highway connecting Uttar Pradesh and the national capital.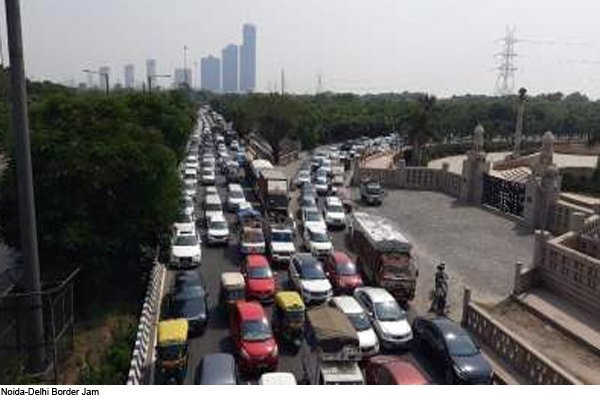 Thousands of farmers are on the Chilla border. Multilevel security along with police forces have been deployed to prevent the protesters from moving towards the national capital. Hundreds of farmers have staged a sit-in at the shout border of Noida-Delhi along the border of Delhi. In such a situation, it can be difficult for people going from Noida to Delhi and from Delhi to Noida. Delhi Police has blocked Tekri, Jhauda and Chilla Border for traffic.
Two more borders, connecting the national capital to Gurgaon and Jhajjar-Bahadurgarh, have also been closed as a precaution, causing heavy traffic jams in many parts of the city. With this, a total of five border points, including the Indus and Tikari borders, have been closed due to heavy opposition from farmers.
Noida's traffic divert from Akshardham
In view of the farmers' agitation, the entire traffic going from Akshardham towards Noida is being diverted towards KN-24 and Mother Dairy.
Road closed near Film City
Due to the heavy jam caused by the farmers' movement, they are visible on the way to Delhi. There is a heavy jam on the DND route. At the same time, the sector-14A road near Film City has also been closed as a precautionary measure. Only those who have houses are being allowed to come.
Screaming border too sealed
People of Bharatiya Kisan Union are frozen on the shout border of Delhi-Noida and are demanding to go to Delhi. Police have also sealed this border as a precautionary measure. The effect of the closure of the border is clearly visible on the traffic. The expressway is jammed.
Police advised to avoid these paths
Delhi Police has advised people to avoid the Indus, Tikari border and traffic has been stopped on these routes. The Indus border has been closed from both sides and people have been advised to use alternate routes. Traffic has been diverted on Mubaraka Check and GT Karnal Road. There is a possibility of heavy traffic jam on the way from Signature Bridge to Outer Ring Road and then to Rohini.