26/03/2021
Fire broken in Mumbai's Covid Hospital, 10 killed, more than 70 patients rescued
Mumbai: 10 patients died in a fire at a hospital in a mall in Mumbai last night. More than 70 corona virus patients were evacuated. The police officer said that the Dreams Mall Sunrise Hospital in Bhandup area caught fire after midnight. The hospital is located on the third floor of a five-story mall. At the time of the accident, besides Corona's patients, many more patients were hospitalized.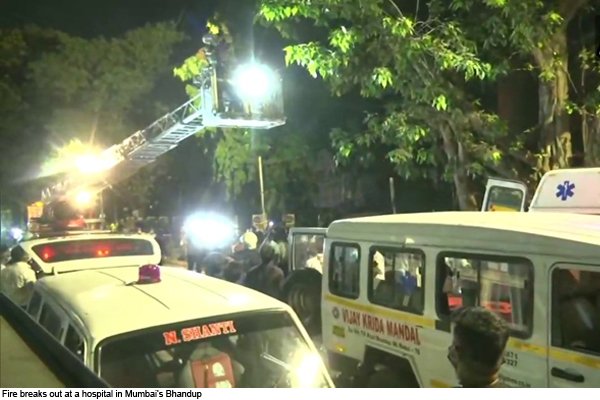 Mumbai Mayor Kishori Pednekar said, "This is the first time I have seen a hospital in a mall." This is a very serious situation. Seven patients were on ventilators. 70 patients have been taken to another hospital. There will be an investigation to confirm the cause of the fire. "
Last night, at around 12.30 pm, 20 fire tenders arrived at the Dreams Mall Sunrise Hospital last night. More than 70 Covid patients were hospitalized at the time of the incident. Authorities have not yet confirmed the cause of the blaze.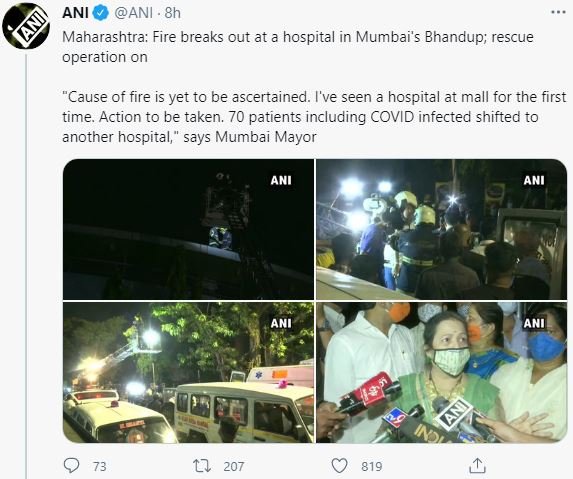 In a statement, Sunrise Hospital said, "There was a fire in the first floor of Dreams Mall, Bhandup, and the smoke reached the Sunrise Hospital located on the top floor. All started to extinguish the fire and all the patients were safely evacuated. There were two dead bodies (due to Covid), which were also exhumed. There were no casualties due to the fire.
"All patients were immediately transferred to Jumbo Covid Center (and some other private hospitals)," the hospital said. We are grateful to the Mumbai Fire Brigade and the Mumbai Police for helping to save the lives of the people. This hospital was started last year under exceptional circumstances of Covid and has helped save many patients from Covid's death. The hospital is functioning with all the responsibilities like fire license, nursing home license. The hospital staff did a wonderful job of taking refugees to safe places on wheelchairs and beds and evacuating patients safely by following fire grills. "
The incident comes at a time when the financial capital of India, Covid, is once again witnessing an increase. On Thursday, 5,504 new cases were registered in the state.
Earlier, police officer Prashant Kadam was earlier told. "Two people are reported to have been dead in the incident." A level-3 or level-4 fire broke out on the first floor of the mall at 12.30 pm. 22 to 23 fire tenders are present on the spot. "