Korba: So far you have seen water coming out of the bore, but after digging in Gothan of Biroridand near Kelhari in Chori, Koriya district, fire started coming out from the ground. Seeing the fire coming out of the ground people called the fire brigade. Firefighters overcame the fire. The fire rescue team official said that due to coal there was methane gas coming out, due to which there was a fire.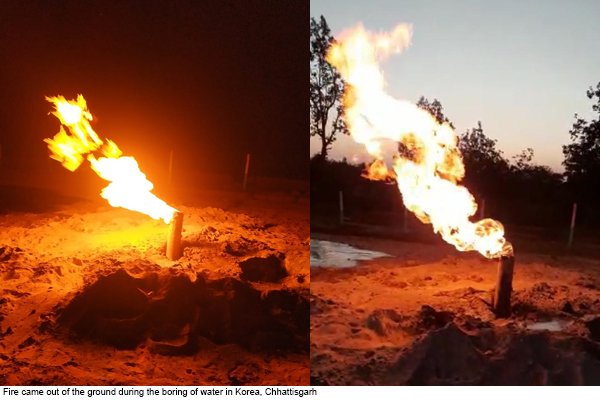 The fire started suddenly after 4 hours of tubewell mining in Gothan of Biroridand near Kelhari in Chori, Koriya district of Chhattisgarh. Was coming out
Hand pump was excavated at Gothan in village Biroridand under Manendragarh block at around 1 pm on Sunday. The excavation was stopped when 2 inches of water came out during the excavation. After about 4 hours of boreh excavation, sudden flames started coming out at 5 pm. Seeing this, the staff of the boring machine and the people present there were surprised. Gradually, this thing spread like a fire in the forest and the people gathered there. The fire continued from the bore till 8 o'clock in the night.
Firefighters and police team reached the spot : On the news of the fire coming out of the bore, Rescue Team from Manendragarh from the very district headquarters, 3 teams of Municipal Army firefighter and police personnel reached the spot. The firefighter's team extinguished the fire and appealed people to take precautions.
What caused the fire : The officer of the rescue team said that there was a fire due to methane gas coming out due to being a coal sim there, due to which we have technically extinguished it and tried to shut it down, at night we have Camped, monitoring is being done, if the leakage of gas increases, then the administration will take further action.
Also read in Hindi: पानी की बोरिंग के दौरान जमीन से निकली आग, फायर फाइटरों ने पाया काबू