New Delhi: The Union Road Transport and Highways Minister Shri Nitin Gadkari inaugurated the three-lane 1.5 km Koilwar bridge on the Son River in Bihar through video conferencing today.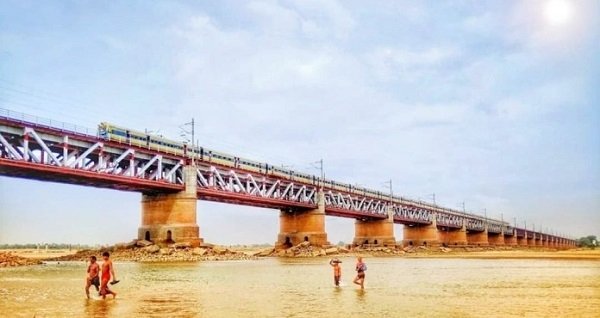 An amount of Rs 266 crore has been spent on the construction of this bridge. The existing two-lane bridge for rail and road traffic is 138 years old. A six-lane bridge is being constructed in place of this old bridge. The three-lane route of this bridge has been opened to the public today. After the completion of the second three-lane route, traffic on National Highway-922 and National Highway-30 will be greatly facilitated. This bridge is a major transit route between Bihar and Uttar Pradesh.
On this occasion, Shri Gadkari announced that according to the proposal made by Bihar Chief Minister Mr. Nitish Kumar and local MP Mr. Rajiv Pratap Rudy, the Ministry approved the construction of a four-lane elevated road from Bharauli (Buxar) to Hyderabad. Is, so as to provide connectivity to Purvanchal Expressway. The DPR for this 17 km long link road will be ready by June next year. The ministry has also approved the widening of the 70-kilometer Mokama-Munger Road, for which the DPR will be completed by April next year.
Similarly, the widening work of Muzaffarpur-Barauni road will also be started soon. A four-lane proposal for Khagaria-Purnia road (NH-31) has also been approved and its DPR will be ready by next April. The Muzaffarpur-Sitamarhi-Sonvarsha road (NH-77), which is part of the Ramjanaki route, will make the journey to Janakpur Dham (Nepal) easier by four lanes. The DPR of this road will also be ready by May next year.
Shri Gadkari, Union Minister for Development of Road Network in Bihar, Shri R.K. K. The proposals sent by Singh were also mentioned. He said that keeping in mind the suggestions of Kishri RK Singh, a new plan has been prepared for the Sasaram-Ara-Patna greenfield project. He said that 90 percent of the work of Ara Ringroad would come under these existing three projects.
The Union Minister of Power, New and Renewable Energy, Shri R. K. Expressing happiness over the inauguration of this bridge, Singh thanked the Prime Minister and the Minister of Road Transport and Highways, Shri Nitin Gadkari for rejuvenating the roads and highways in Ara area of ​​Bihar. He also requested Mr. Ghadkari to approve construction of a ring road for Ara by connecting Patna-Ara-Sasaram Greenfield Project with Patna Ara-Buxar Road.
Shri Gadkari informed that road construction works are going on in Bihar at a cost of Rs 30,000 crore. An amount of Rs 4,600 crore has been released for the acquisition of land. There are 24 projects covering 1,459 km under the Prime Minister's Package. Of these, work is going on 875 km. Under this, 125 km tender has been issued and by next March, 459 km long projects will be issued. He said that in the last six years, Rs 2,097 crore has been sanctioned for CRF works in Bihar. Out of this amount, Rs 1281 crore has been released so far.
Shri Gadkari said that the construction work of the 7-km-long four-lane Koshi Bridge being constructed at a cost of Rs 1,478 crore is expected to be completed by the year 2023. Tender has also been issued for construction of 4 km long and Vikramshila bridge costing Rs 1110 crore. The bridge is expected to be completed by the year 2024. The construction of the Buxar Bridge falling within 48 km of this road project will be completed by next year. The bridge will provide an alternate route of 250 km, which will take 6 to 8 hours to travel.
The construction of 6 km long Sahibganj bridge connecting Bihar and Jharkhand will cost Rs 1900 crore, whose tender has been issued. The construction of this bridge is expected to be completed by September 2024. The construction of the remaining two-lane bridge over the Ganges river in Patna will be completed by next year. The reconstruction of this 5.5 km long bridge will cost Rs 1742 crore.
He also announced the construction of a five-kilometer long four-lane bridge over the Ganges river near the existing bridge in Patna, for which an agreement has been signed in October this year. It will be a unique bridge with a spans 242 meters long, which will help in the movement of large ships. He also said that Ramjanaki road is also being constructed between Ayodhya and Janakpuri (Nepal). 240 km of this route falls in Bihar, which has a construction cost of Rs 2700 crore. He said that the construction of the 177 km long road on this route will be completed by June next year. Construction of the remaining 63 km of road will begin in March 2021.
In this program, the Chief Minister of Bihar, Mr. Nitish Kumar, Deputy Chief Minister Mr. Tarkishore Prasad and Mrs. Renu Devi, Union Minister Mr. R.R. K. Singh and General (Dr.) V.K. Singh, several ministers of the state, senior officials of the Center and the state were also present.