15/04/2021
Here's How fast Mamta is losing the battlefield in Bengal on each voting stages pass
The Election Commission on Monday imposed a 24-hour campaign ban on West Bengal Chief Minister Mamata Banerjee for 'highly derogatory' and 'inflammatory remarks' against central forces deployed in the state on election duty.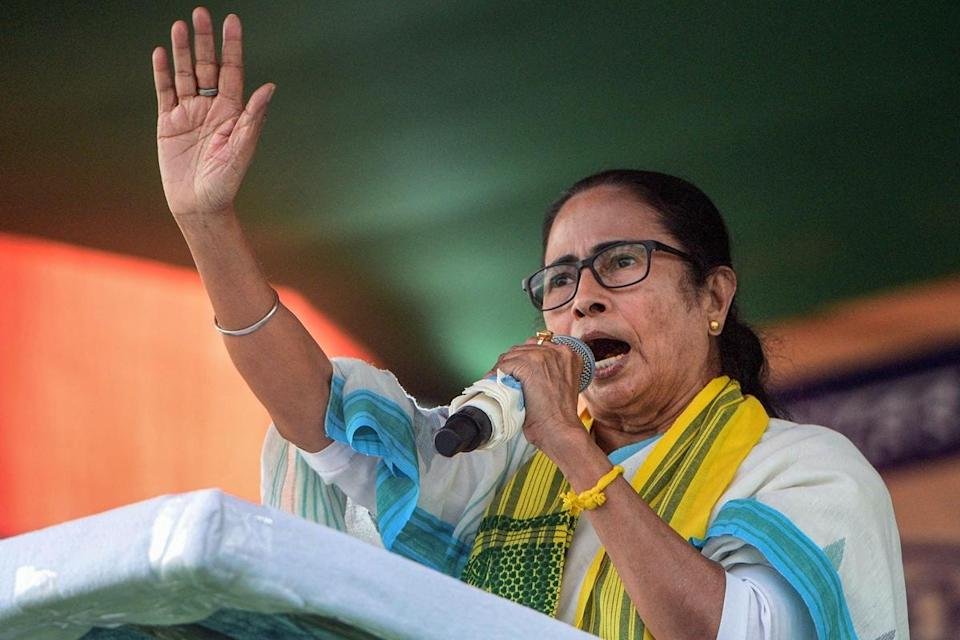 The Election Commission further said that there was a serious possibility of breakdown of law and order in the state in the statements. The Trinamool Congress termed the action as 'partisan' and 'undemocratic'.
On Tuesday, Banerjee sat on a one-day sit-in at Gandhi's statue in Kolkata to protest against the ban. The ban ended at 8 pm yesterday. The Chief Minister also made a painting and shared some of his work with the media, which was dominated by the entire channels.
Mamata has been under pressure from an accused Bharatiya Janata Party that can smell a victory, however far-fetched it may seem. Her actions and words show nervousness.
From calling the minorities out to 'not dividing their votes', to motivating people to gherao CRPF, to call the names of the Election Commission, they have done it all. As a result of a leg injury yet to prove the charges of a mob attack on him in Nandigram.
And leaders from Hyderabad and joining hands with Left Front and Congress are helping BJP by dividing minority votes in the state. Please do not let anyone split your vote. Addressing an election rally at Raidih in South 24 Parganas district, Mamta said, "We should win more than 200 seats."
"One group should surround them (CRPF personnel) and the other group should go and vote if the CRPF personnel are in trouble," Banerjee said at a rally in Cooch Behar. न Don't waste your vote. If you want to vote for them, you will ruin their vote and this is exactly what the BJP wants too. '
'EC should change the name of MCC to Modi Code of Conduct! BJP can use its power, but nothing in this world can stop me from being with my people and sharing my pain. They have banned me from visiting my brothers and sisters in Cooch Behar for 3 days, but I will be there on the 4th day! '
The statements of his strategist Prashant Kishore on the clubhouse have also created a ruckus and have been interpreted as an imminent loss entry. He is distorting the facts throughout the city and daring BJP to release the entire tape.
PK was heard saying that the BJP has gained a huge edge in Bengal. He said that his internal survey indicated that. He admitted that the BJP was winning this election. To accept it after three elections, one of the biggest stages today is extremely important after the day. What is important is that this election strategist has been running TMC for the last few months, 'Amit Malviya said in a press conference after the leaked tapes.
This ban was forthcoming due to the irresponsible statements made by Mamta. He would have thought that such a ban would give him some sympathy. She could play her victim card. But it has provoked like a leg injury incident.
Mamta should understand that she is the only star campaigner of her party Trinamool Congress. A day of campaign damage can prove to be very costly in a close competition.
Raising aspirations over EC's conduct only shows that she is not confident of victory and is looking for excuses. The Election Commission has also banned BJP leader Rahul Sinha from campaigning for 48 hours and issued notices to state president Dilip Ghosh. The Election Commission had also banned Himanta Biswa Sarma in Assam.
There are a lot about election perception and it can affect the voting decision of unspecified and swing voters, 12% -15% of the total voter base. They usually return the winning horse.
As the voting stages pass, the writing is becoming clear on the wall for Mamata.
One of the prominent journalist, despite his achievements, faces the toughest ordeal of his political life. She would have easily passed this test if she had reduced her own militancy, and had not so ruthlessly repressed the voters of the Trinamool's power-ridden party bosses. In an attempt to bring 'poriborton' (change) to Bengal, she might have forgotten to be part of the change herself. In a vigorous and agile election, he may have to pay the price. '
Until she soon changes her path, breaks away from her confrontational attitude, theatricality and drama and takes concrete corrective action, Mamata is fast losing the battle ground in Bengal.