Mumbai: With the country 'staying safe and staying home', the COVID19 epidemic in 2020 led to a drastic change in the way we consume entertainment content. While 'binge watching' was always there, the lockdown further strengthened the position of the digital platform, as it remained the most popular entertainment channel for Indians this year.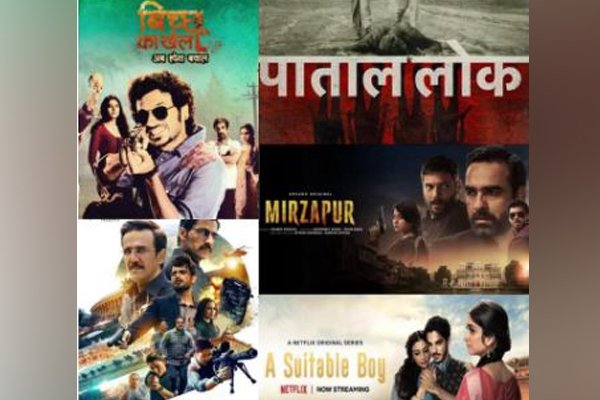 As the use of video- and audio-conferencing tools grew, faster Internet connections gave viewers more reasons to make the best use of the digital space.
It is no surprise that India now has more than 77 crore internet connections, of which more than 97% are wireless. The metros were first-movers, however, in recent times, the Internet has shown huge growth in B and C cities.
The people of the new rural India on the Internet added to the unprecedented success of shows like Mirzapur, Patal Lok, Scorpion's Game, Filthy Talk and Ashram.
Interestingly, players like Netflix and Amazon turned to metros with shows such as Miss-Matched, Four More Shots, A Suitable Boy, Masaba Masaba, Indian Matching, Bandish Bandits, Fabulous Lives of Bollywood Wives and The Family Man did. He later expanded his base with shows such as Patal Lok, Hansmukh, Betal, Mirzapur, Delhi Crime, Panchayat and Inside Edge, seeing the growth of small-town consumers.
But then, India has always been more public and this is well understood by players like ALT Balaji, Hotstar and Zee 5. While Hotstar completed a mixed batch with shows like Special Ops, Hostesses and Arya, ALT Balaji played his show Scorpion Games, Kahne Ko Hum Humsafar Hai, Rains, Broken But Beautiful, Who's Your Daddy and Filthy Talk Ke Also made his dominance in the space and did not let anyone step away from the front of the screen.
Interestingly, ALTBalaji has carved a niche for itself in the 'original' space and is the fastest growing homegrown platform with over 60 originals. His partnership in the show with Zee5 was also beneficial and Code M, Mentalhood and Kundali Bhagya also earned a good place. Slowly and steadily, other players in this domain including MXPlayer and Ullu are making a good effort and are promising a lot.
During the Covid-19 epidemic, we saw a major shift in digital usage with new emerging trends and impacts on all aspects of work and life, and digital exposure will be here for a long time! With high quality content, looking at a large spectrum of viewers, the digital platform has something for everyone and all these players are moving forward.