08/01/2021
Jackie Bhagnani and Sony Music come together for their next song 'Qatra'
Mumbai: Jackie Bhagnani's Judgest Music and Sony Music has come togather for song 'Qatra'. Sony Music has 'Shayad', 'Sawan Mein Lag Gayi Aag', 'Tu Mera Nahin', 'Genda Phool', 'Dil Bechara' and many other hit songs this year, Sony Music has won the hearts of people over the years.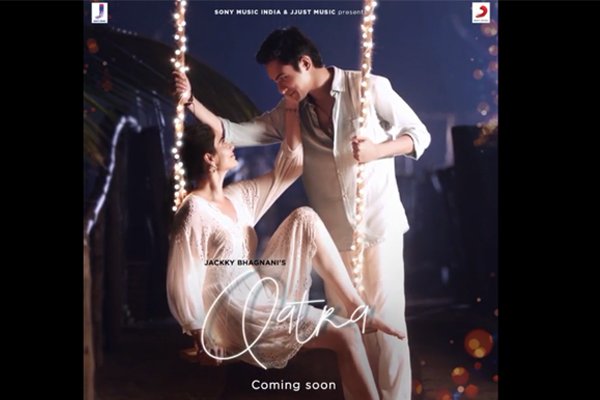 On the other hand, Judgest Music has given hits like 'Prada', 'Hi-Way', 'Muskuraga India' which has entertained the audience a lot. It would not be wrong to say that Sony has received a lot of love from the audience, while Judgest Music has acted as a mood lifter for the entire country during this worrying and pandemic. Muskuraga India is a favorite song even today. Prior to the same release, Jackie, Judgest and Karisma Tanna have announced the song on their Instagram handle.
Jackie shared, "Starting the year with this very special love song – #Qatra – coming out soon! Stay tuned."
The judge posted, "Bringing to you our very first song of 2021, #Qatra with @karishmaktanna, @ritwikbhowmik, and @stebinben! Expressing the feeling of love via words couldn't be easier than this, watch this space for more!
Youngest producer Jackie Bhagnani shared, "I am delighted and excited for this exciting teamwork we have invested in our upcoming independent song 'Qatra'. Our efforts with Sony Music have always been memorable. Together we have supported the party in the past with some successful songs like Kamariya, Boom Boom. Our collaboration with Sony Music has always touched greater heights and set our own path to reach the hearts of the audience. Is. I'm looking forward to this association for this independent music. "
Sony Music Senior Director Marketing Sanjit Bhujbal has words of praise for this collaboration. He shared, "It has been great to collaborate with Jackie and Judgest Music. As Jackie we have the youngest producers who have never faced challenges and have been extremely successful with all their projects They have given a chance to new and emerging artists and this feature inspires us to work with them and with this partnership we hope to reach new heights together. We hope that Qatra is the first in this collaboration Step that will last for many years to come. "
Jackie Bhagnani has made a name for herself as a producer and is all set to attract everyone's attention again with Judgest Music as this time they are collaborating with Sony Music which is a sweet surprise for all Is like
Jackie and Judgst Music never hold back from giving new and young faces a chance. Even during the lockdown, the company has given a platform for new artists to present themselves which has resulted in success. And, through the recent announcement of a collaboration with Sony, Jjest is touching new heights. Soon new collaboration partners will announce their new song and we can imagine how difficult it is going to be until the launch!
'Qatra', the first song written by Sanjeev Chaturvedi, is sung by Stabin Ben and composed by Sanjeev-Ajay which will go live on all platforms from 11 January. Filmed by Karisma Tanna and Ritwik Bhowmik, the video showcases the feeling of romance, sadness, and love.