New Delhi: Three local terrorists have been killed by security forces in an encounter with militants in Tiken area of ​​Jammu and Kashmir's Pulwama district. According to the information, the militants attacked the army convoy with grenades, in which 4-5 civilians were injured. The security forces immediately took action and heaped the three terrorists. It is being told that he is related to the Al Badre terrorist organization.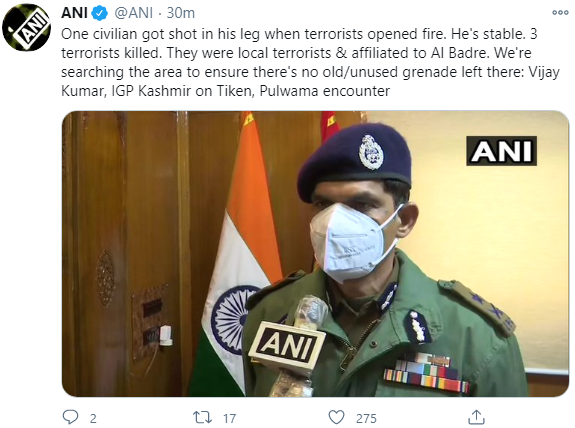 Vijay Kumar, IGP Kashmir told that "An over ground worker threw a grenade at Singhpora when the security convoy was passing through the national highway. 4-5 civilians were injured in this and all of them are stable in the hospital. We are finding out the organization behind this, they will be arrested soon. "
He said that a civilian got shot in the leg when the terrorists opened fire. He is stable. The 3 terrorists killed were local terrorists and belonged to Al Badre. We are exploring the area to make sure that no old / unused grenade is left there. "
Let us tell you that the security forces were reported to be hiding some terrorists in Tiken village. After this, 55 RR, CRPF and SOG of local police conducted the search operation. Seeing themselves surrounded, the terrorists started firing, after which the security forces have killed the three terrorists in retaliation.
Earlier, security forces at the blockade in Jammu and Kashmir Nagrota killed 4 terrorists of Jaish-e-Mohammed trying to infiltrate. Indeed, the security forces had erected a barrier near the Ban Toll Plaza. During the investigation of the vehicles, a group of terrorists started firing on the security forces. After firing, the terrorists started running towards the forest. Then the encounter started. 4 terrorists were killed in the encounter.