22/09/2021
Kangana slams Alia over controversial bride's advertisement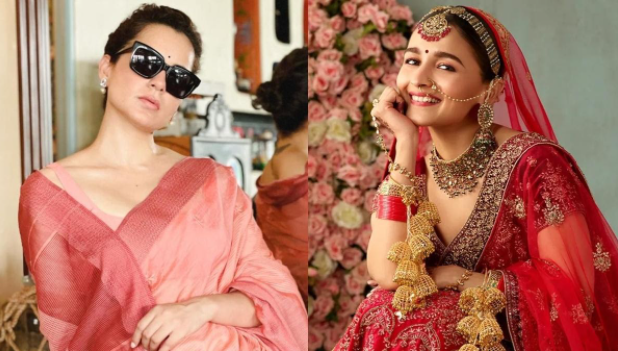 MUMBAI: Actress Kangana Ranaut, who is known for giving her opinion on any matter, has reacted to a new advertisement featuring Alia Bhatt as a bride. Disagreeing with the reference to 'Kanyadaan' in the bridal ad, Kangana took a jibe at the 'Raazi' actress with the brand, asking them not to mix religion to molest their customers.
Sharing her thoughts in a long post on Instagram, Kangana wrote, "Humble request to all brands not to use religion, minority, majority politics to sell things… for gullible consumers with clever divisive concepts." Stop tampering with." She said women are worshiped in the scriptures and there is no harm in looking at them as the "priceless source of existence".
In her post, Kangana wrote on the tradition of 'Kanyadaan' and the concept of sacrifice. He also asked people to stop making fun of Hindu customs. We often see the father of a martyr on television, when he loses a son at the border, he roars, don't worry, I have another son, I will donate that too to mother earth. Be it Kanyadaan or Putradan, Rasta Samaj sees the concept of sacrifice, reflects its core value system.
Alia Bhatt's latest bridal ad has created controversy online. In the advertisement, the bride, sitting at the mandap with her future husband, mentions to each member of her family including grandmother, father and mother how much they love her. However, she opposes the practice of 'kanyadaan' in marriages. She asks why she was always considered as a temporary part of others and their family.
Aaliya asks, "Am I a charity? Why only kanyadan?" However, she is pleasantly surprised when her in-laws also give their son during the rituals. Everyone smiles in spite of being surprised by the approach and the wedding rituals continue."
The advertisement has divided netizens on the idea and sparked debate over modern views on the age-old Hindu marriage tradition.
Kangana has attacked Alia Bhatt on several occasions in the past and has described her as a part of the 'Nepo-gang'. Apart from being at loggerheads with Alia, Kangana is also facing a legal battle with Javed Akhtar and Hrithik Roshan.
The four-time National Award winner was recently seen in 'Thalaivi'.
(with agency input)