22/01/2021
Karnataka explosion: The explosive truck exploded in Shivamogga, 15 dead
New Delhi: A explosive-laden truck exploded in Karnataka's Shivamogga district late Thursday night for suspected explosives. The explosion was so fast that glass of houses and offices in many surrounding areas broke. The dead bodies of 15 people have been recovered in this accident so far. On social media, it is being claimed that the blasts caused cracks in the streets of the area. Shivamogga is about 350 kilometers from Bengaluru, the capital of Karnataka. Explain that firecrackers made in Shivamoga are supplied all over India. Prime Minister Narendra Modi has mourned the accident by tweeting it.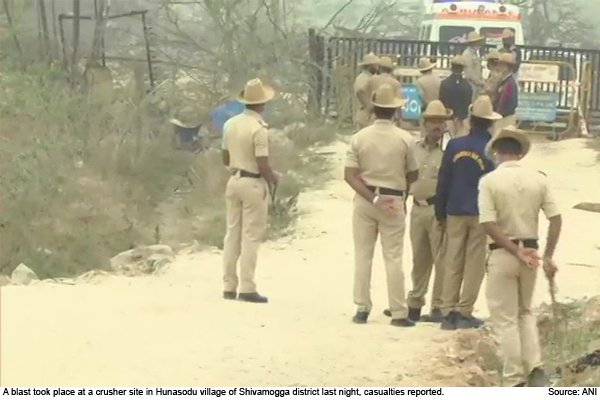 According to News18, the explosion occurred in the village of Hunasodu in Shivamogga, Karnataka. This powerful explosive was being transported for mining. The blast occurred at around 10:30 pm at a stone breaking site, causing tremors not only in Shivamogga but also in the nearby Chikkamagaluru and Davanagere districts. According to eyewitnesses, the blast was so fast that the glass on the windows of houses and offices broke and the roads cracked.
Prime Minister Narendra Modi tweeted and expressed his condolences to the victims of the blast and also assured that the Government of Karnataka is doing everything possible to help the affected people.
Due to the shock caused by the explosion, people felt that an earthquake had occurred, due to which some locals in the surrounding areas had to run out of their homes. Some geologists were contacted, who denied recording setbacks at any of their observatories.
"There was no earthquake," a police officer told the news agency. But there was an explosion in Hunsur, on the outskirts of Shivamoga, under the rural police station limits. "In May last year, a loud noise rocked Bengaluru which was later confirmed to be due to a test flight by the Defense Department.