24/11/2020
Kejriwal told PM Modi, Corona's 'third wave' seen in Delhi
New Delhi: Concerned over the deteriorating condition of Corona in many states of the country, Prime Minister Narendra Modi is having an important meeting of the Chief Ministers of the states. At this meeting, Delhi Chief Minister Arvind Kejriwal said that the recent upsurge in the cases of corono virus in the national capital was called the 'third wave'. He apprised PM Modi of the condition of Corona in Delhi.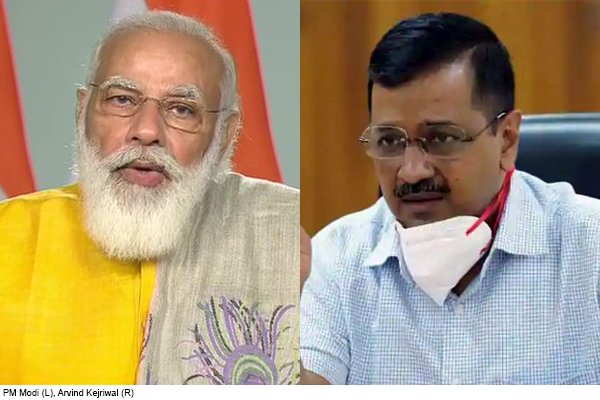 The Chief Minister of 8 states most affected by Corona is also present in this meeting on important issues with Home Minister Amit Shah. This meeting is taking place through video conferencing. Chief Ministers of several other states including Delhi Chief Minister Arvind Kejriwal, Bengal Chief Minister Mamta Banerjee, Maharashtra CM Uddhav Thackeray, UP CM Yogi Adityanath, Chhattisgarh CM Bhupesh Baghel are participating in this meeting.
During a meeting with PM Modi, Delhi CM Arvind Kejriwal said that the third wave of corona has been observed due to burning of stubble in Delhi on 10 November. Giving information, the Delhi Chief Minister's Office said that Delhi CM Arvind Kejriwal informed PM Modi that a third wave was witnessed in Delhi on November 10 with 8600 corona cases. CM Kejriwal said that since then cases and positive rates have been steadily decreasing. He said that burning of stubble of the third wave has pollution along with many other factors.
Arvind Kejriwal demanded intervention from the PM to get rid of pollution. He expressed concern over pollution caused by stubble burning from nearby states. Along with this, CM Kejriwal has also demanded additional 1000 ICU beds in central government hospitals till the third wave in Delhi.
Also read in Hindi: पीएम मोदी से बोले केजरीवाल, दिल्ली में दिखी कोरोना की 'तीसरी लहर'