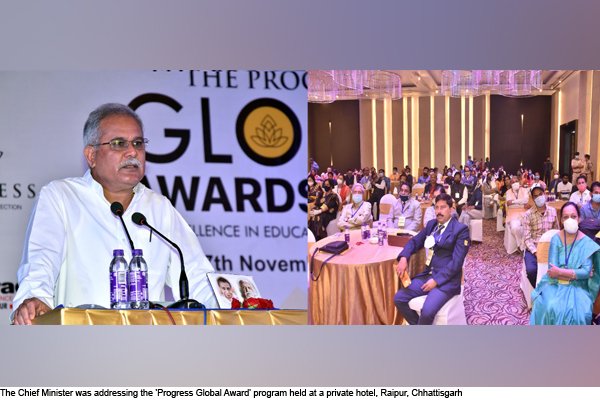 Raipur: Chief Minister Bhupesh Baghel said that Maharshi Arvind was an epitome of spiritual awareness. The heights of spiritual awareness and awakening achieved by our saints, the research work done by them has been the topic of discussion over the centuries. Maharshi Arvind was one such great persona. Chief Minister was addressing the Progress Global Award ceremony organized at a private hotel in capital city Raipur.

Chief Minister praised the initiative of Shri Arabindo Yoga And Knowledge Foundation to felicitate teachers and organizations imparting quality education. Chief Minister congratulated all the teachers and organizations felicitated by the foundation. The Progress Shri Arabindo Yoga and Knowledge Foundation conducts various programs such as FDP, youth camp, seminars, national-international workshops, for principals, professors, teachers and students of various universities, colleges in the country and abroad.
Chief Minister said that without quality education, we cannot raise our children to be good citizens. Teachers are making immense contribution in leading the society towards better future through education.Emphasizing on the importance of spirituality during covid crisis, Chief minister said that Covid19 has affected the entire world, and the most important way to deal with this situation is to organize one's life. He said that covid patients are prone to depression and one way to heal this is spiritual path. We should include meditation, yoga and exercise into our routine to maintain good mental and spiritual health.

On request of the organizers, Chief Minister spoke about State Government's ambitious Narva Garva Ghurva Bari Scheme and also about the works being done in the field of education health sectors. On the occasion, Padm Shri awardee Scientist Dr. Anil K Gupta, Chairman of Shri Shankaracharya Institute of Professional Management and Technology, Raipur Mr. Nishant Tripathi, Managing Director of The Progress Dr SM Ghosh, Chairman Dr BK Sthapak, Mayor Raipur Municipal Corporation Mr. Ejaz Dhebar were present as the special guests of the occasion.

In the Progress Global Award 2020 program, total 85 awards were given in various categories. Total 162 registrations were received for the award, out of which 94 were selected. This includes 4 small industries, 2 universities, 5 colleges, 80 college teachers, 8 school teachers.