03/05/2021
Mamata nightmare Nandigram defeat: Election officer threatened to kill
New Delhi: Trinamool Congress (TMC) chief and state chief minister Mamata Banerjee has made a sensational claim after the results of the West Bengal assembly elections. Mamta Banerjee is unable to digest her defeat from Nandigram. He claimed that the Election Officer of Nandigram told me that the re-counting order could endanger his life. Due to this, counting was not conducted again.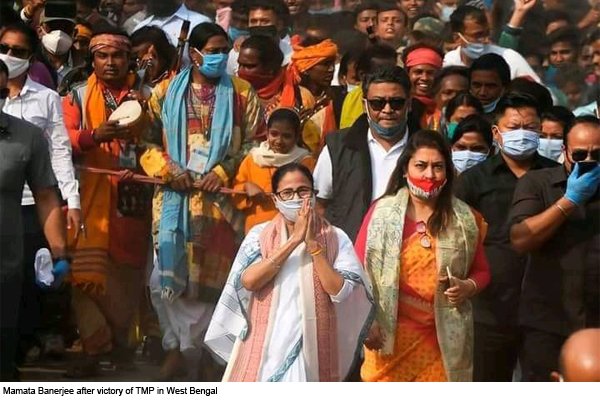 After TMC's landslide victory in West Bengal, party workers have created a ruckus in East Bengal. Talk of attack on different offices of Bharatiya Janata Party is coming out. The BJP is blaming TMC workers for this. Mamta Banerjee has appealed to her supporters to maintain peace.
On the other hand, Mamta Banerjee told how the Election Commission reversed the results in Nandigram after the formal announcement. He said that we will go to court with this. With this, Mamta told that I will meet the Governor at around 7 in the evening. After this, the party will decide on the oath taking in the evening and the formation of the cabinet.
Leaders of all parties including Prime Minister Narendra Modi and Congress President Rahul Gandhi also congratulated Mamata Banerjee on the victory of the Trinamool Congress. Along with this, he also talked about giving all kinds of support to Bengal in the corona epidemic.