11/01/2021
Meet the characters of Tandav, the battle started to get the Prime Minister's crown!
Mumbai: This Friday, the Amazon original series "Tandav", starring Saif Ali Khan, is all set to take viewers on a roller-coaster ride, full of plot, drama, and suspense, and the weekend binge-watching. Is absolutely perfect. The trailer of the show has already generated immense excitement and anticipation among the audience, which has been viewed 25 million times since its launch. The show is accompanied by director Ali Abbas Zafar and article 15 fame writer Gaurav Solanki marking his digital debut.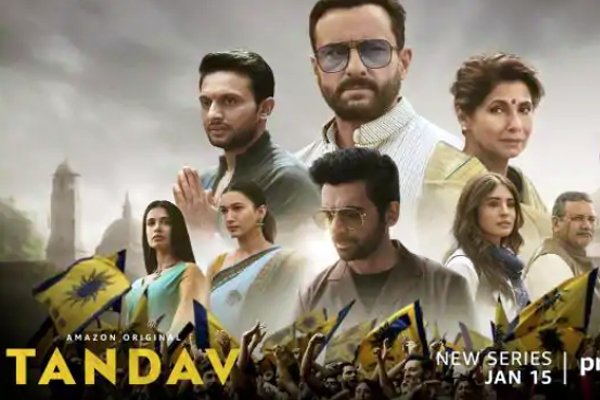 Saif Ali Khan as a clever politician:
"It's time to change the rules of the power game," Saif Ali Khan shared in his latest teaser pointing to his ingenuity and menial ambitions. The show will see Saif as Samar Pratap Singh, an ambitious, shrewd politician Seeing Saif Ali Khan as Prime Minister of the country Samar Pratap making a comeback to the digital space, fans are already feeling elated.
Dimple Kapadia as an angry and determined woman:
Working under a woman hurts her mail Ego ", Dimple Kapadia marked in this latest character teaser. Dimple Kapadia, in her digital debut, is playing the role of Anuradha Kishore, who blackmails to achieve her goal Knows the art of. In this teaser, Dimple appears with an angry look and is determined to win this power game around which the story of Tandava revolves.
Mohammad Zeeshan Ayyub as a strong-headed student leader:
In Tandava, Mohammed Zeeshan Ayub plays the role of Shiv Shekhar, a progressive student leader. As the show progresses, audiences will see him challenging Samar Pratap Singh aka Saif Ali Khan.
Sunil Grover as the perfect sidekick:
"In a game of chess, a king may or may not fall. But his claws and his lieutenants are already smashed before Raja arrives. ", Sunil Grover shared in the latest teaser. Also, Sunil Grover is making his digital debut with Tandava. In the show, he is a cop Gurpal is playing the role of Chauhan who is working secretly for Saif Ali Khan to fulfill his mission.
Produced by Himanshu Kishan Mehra and Ali Abbas Zafar, the 9-episode political drama will feature a strong cast that includes Saif Ali Khan, Dimple Kapadia, Sunil Grover, Tigmanshu Dhulia, Dino Morea, Kumud Mishra, Gauhar Khan, Amaira Dastur, Other artists including Mohammed Zeeshan Ayub, Kritika Kamra, Sara Jane Dias, Sandhya Mridul, Anoop Soniyaan, Hiten Tejwani, Paresh Pahuja, and Shonali Nagrani will be seen.
Set in the capital city of the world's largest democracy, the Tandava will take spectators inside closed, chaotic corridors of power. The show will reveal the dark secrets of individuals wanting to cross any threshold in their thirst for power, along with manipulations, cycles. The series will be available from 15 January 2021 to Prime Members of India and over 240 countries and territories.