03/01/2021
Muradnagar Accident: 21 People killed and 24 injured, as roof collapse of a crematorium house
New Delhi: 21 people were killed and at least 24 others were injured when a roof of a cremation ground collapsed in Muradnagar in Uttar Pradesh on Sunday. All these people had come to attend the funeral and took shelter under a roof to escape the rain. In the accident, a son of the person who was being cremated was also killed. Officials said that most of them were relatives of Jai Ram, who was being cremated at that time. The incident is from Ukhalarsi village in Muradnagar. A National Disaster Force (NDRF) has also been dispatched to the scene.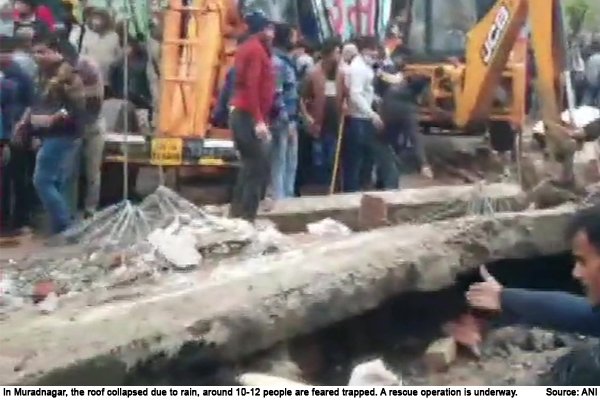 Rescuers kept searching for the injured in the cremation building rubble for hours to ensure that no one else was trapped there. Officials said that apart from 21 dead, 24 others were admitted to various hospitals.
Witnesses said that Jayaram, a fruit merchant from Muradnagar, was being cremated at the crematorium. Jayaram died at the age of 65. During the funeral, everyone stood in the gallery adjacent to the gate. During this time, this accident happened. The gallery was built here two and a half months ago.
People have alleged that inferior material was used to make the gallery. Jayaram's grandson Devendra, who was present on the occasion, said that his grandfather was being cremated. The rest stood away and watched. Meanwhile, the roof collapsed. Due to this, all the people standing there were overwhelmed. Devendra told that his uncle has also died in the accident. A cousin is buried under the rubble. His father was also injured in the accident.
2-2 lakh compensation to the families of the deceased
The team of NDRF is engaged in rescue. Rescue is facing problems due to rain. 3 have been identified among the dead. Their names were Yogendra, Bunty and Omkar. They were residents of Sangam Vihar and Muradnagar. Chief Minister Yogi Adityanath has directed to provide financial assistance of two lakh rupees to the dependents of those who died. Also, the Mandalayukta Meerut and ADG Meerut Zone have sought a report of the incident.