Dhamtari: The National Tribal Dance Festival, held for the first time in Chhattisgarh, gave an opportunity to bring alive the extinct traditional dance styles, instruments and attire of the tribal community as a competition in front of everyone. On the other hand, tribal artists also got encouragement and recognition, who were looking for a platform to showcase their skills. After the formation of the Chief Minister Mr. Bhupesh Baghel's government in the state, competitions were organized in the state from November to December, 2019 under the National Tribal Dance Festival at the block level.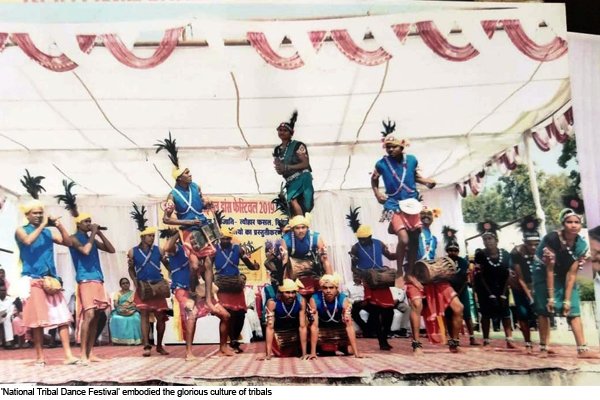 There was no age limit for tribal artists to participate in these competitions. The intention behind this was that everyone could get an opportunity to show their talent by getting free from the age limit. The entire competition was based on four themes. This included themes of marriage, harvesting, traditional festivals and other open categories.
There was considerable interest in the tribal community in Dhamtari district regarding the National Tribal Dance Festival. The participants participated in the National Tribal Dance Festival organized from block to state level. The villagers were particularly interested in seeing and hearing traditional and extinct dance styles, instruments. It was widely publicized since the start of the festival. About 500 participants from Nithijan district participated in this dance festival.
It is to be noted that 24 winning contestants from 22 to 29 competitions held at block level participated in the district level competition on 30 November. The district level competition was held at Nagarpanchayat Auditorium and Swami Vivekananda Indoor Hall at Kurud. After being selected from here, four teams reached the division level program organized from December 1 to 10. One of these groups, 'Jai Gadhiya Baba Adivasi folk dancer Dal Saraitola' got an opportunity to show their talent at the National Tribal Dance Festival in the capital Raipur. The group dished out the hue of tribal culture from the stage through a 'dance at harvest time'.
The participants of other tribal dominated states of the country also participated in this National Tribal Dance Festival organized for the first time in the state. Tribal communities mainly participated in Madhya Pradesh, Odisha, Maharashtra, Telangana, Rajasthan, Jharkhand, Gujarat, and northeastern states. Through this National Tribal Dance Festival, the cultural heritage, dance style, traditional costumes, social qualities and order of the forest dwellers got a good chance to see, understand and connect with the youth. If seen, it was a unique effort in itself, which gave a new dimension to the tribal talent's desire to preserve the stage, identity, name as well as cultural heritage.