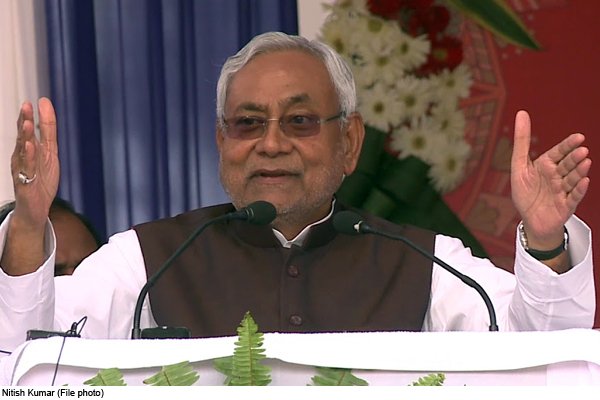 New Delhi: In Bihar, a government of National Democratic Alliance (VI) has been formed again under the leadership of Nitish Kumar. Other ministers, including Chief Minister Nitish Kumar and two Deputy Chief Ministers Tarkishore Prasad and Renu Devi, took oath of office and secrecy on Monday. Along with taking the oath, the portfolios of all ministers in the government were also divided. In this sequence, Chief Minister Nitish Kumar retained several ministries including Home, General Administration and Vigilance. While Tarkishore Prasad, Deputy Chief Minister in the government, has been given the responsibility of the Ministry of Urban Development along with Finance, Commercial Taxes, Disaster Management, Forest and Environment and Information Technology.
At the same time, Deputy Chief Minister Renu Devi has been given the responsibility of Panchayati Raj Department. Vijay Chaudhary has been given the Ministry of Rural Development, Water Resources and Parliamentary Affairs. Ashok Chaudhary, coming from JDU quota, has been made the Minister for Building Construction and Minority Welfare. Mevalal Chaudhary will be the Education Minister. Mangal Pandey has been given the responsibility of Health and Road Construction Department.
5 ministers were also sworn in from JDU quota
Let us tell you that Janata Dal (U) President Nitish Kumar was sworn in as the new Chief Minister of Bihar on Monday. He was accompanied by 7 ministers of BJP quota, 5 ministers of JDU quota. Nitish has become the Chief Minister of Bihar for the seventh time. At 4.30 pm, Governor Fagu Chauhan administered the oath of office and secrecy to Nitish Kumar at a function held at the Raj Bhavan campus. The ministers who took oath include 7 from BJP, 5 from JDU, one each from Hindustani Awam Morcha and Vikas Insa Party.
RJD boycott ceremony
BJP President JP Nadda and Home Minister Amit Shah were also present at the swearing-in ceremony held at Rajendra Mandap of Raj Bhavan campus. The ceremony did not include RJD leader and former Deputy Chief Minister Tejashwi Yadav. The party that won the most seats in the Bihar elections boycotted the ceremony.
Who got which department?
Chief Minister Nitish Kumar- Home, General Administration, Cabinet, Vigilance. Ministries were not allocated to any minister.
Tarkishore Prasad- Finance, Commercial Tax, Environment and Forests, Information Technology, Disaster Management, Urban Development Department.
Renu Devi- Panchayati Raj, upliftment of backward caste and EBC welfare, industry.
Ram Surat – Ministry of Revenue and Law
Vijay Chaudhary – Rural Engineering Department, Rural Development Department, Water Resources, Information and Broadcasting, Parliamentary Affairs.
Mevalal Chaudhary – Education
Sheela Kumari – Transport
Bijendra Yadav – Ministry of Energy, Prohibition, Planning, Food and Consumer Affairs.
Santosh Manjhi – Minor Irrigation, SC / ST Welfare
Mukesh Sahni – Animal Husbandry and Fisheries
Mangal Pandey – Health, Roads and Arts and Culture Department
Jeevesh Kumar – Tourism, Labor and Mines Department
Amarendra Singh- Department of Agriculture, Cooperative and Sugarcane
Rampreet Paswan- PHED