22/03/2021
'No Doubt My Son Winning From Nandigram': Suvendu's father Sisir Adhikari, joins BJP
In a dramatic move, TMC MP Sisir Kumar Adhikari, the father of Suvendu Adhikari, joined the BJP at a public rally of Union Home Minister Amit Shah in Agra, East Midnapore on Sunday, saying his family was "with the people of Bengal". "Save Bengal from atrocities, we are with you, our family is with you." Jai Siya Ram, Jai Bharat, "Sisir said at the rally.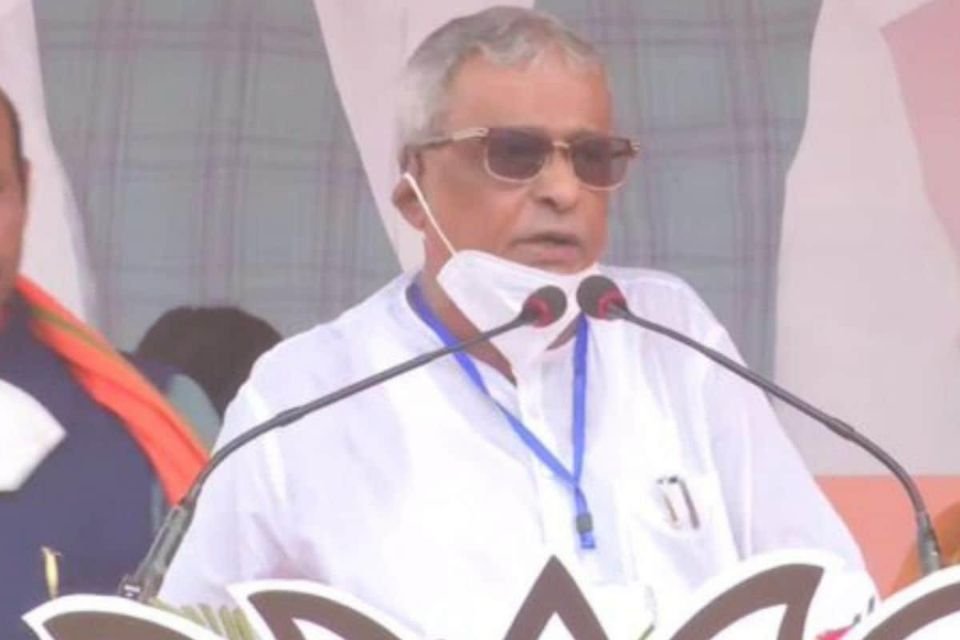 Before leaving his home to attend Shah's meeting, Shishir Kumar Adhikari said, "My son is winning the Nandigram seat and there is no doubt about it. This assembly election is a fight to save our reputation."
Taking a dig at Chief Minister Mamata Banerjee for calling Suvendu 'end traitor', he said, "Whatever happened in Bengal, he is responsible for it." Now she is calling us traitors. He is the 'Malkin' (owner) of 'TMC Factory'. She can say all these things. But such allegations are not going to bring favorable conditions for him. Suvendu is winning from Nandigram. Everyone knows that the results will be in favor of my son. "
On December 19 last year, Sisir decided to join the BJP months after his son joined the saffron brigade.
On January 18, Mamta played a masterstroke after announcing her to contest from Nandigram in the upcoming assembly elections. A few days later, the BJP decided to field Adhiro against the Chief Minister.
Nandigram is a battle for Mamata's reputation as she demolished the Left Front regime in Bengal in 2007, riding the Nandigram land acquisition movements. The political move helped him oust 34 years of Left Front rule in Bengal.
Veteran TMC leader Sisir Adhikari is an MP in the Lok Sabha and has been representing the Contai seat since 2009. He also served as former Union Minister of State for Rural Development in the UPA government led by Manmohan Singh.
He was the chairman of the Contai Municipality for over 25 years. Along with his son, Suvendu, he was also instrumental in the Nandigram land-acquisition movement. Mamta gave her and her family members due respect for their devotion to the party.
Nandigram is considered a stronghold of TMC turncoats and Mamta's decision to contest from this region can be seen as her direct challenge to the Adhikari family. With Nandigram being the focal point of TMC politics, Mamta's masterstroke is going to have an impact on all 35 assembly seats in both East and West Midnapore districts.
East Midnapore has 16 assembly seats, while West Midnapore has 19 seats.
In the 2016 assembly elections, TMC won 13 of the 16 seats in East Midnapore, including Nandigram, which Suvendu Adhari won, while three seats – including one won by Ashok Kumar Dinda of Tamluk constituency CPI, Panskura Purba CPIM K Sheikh Ibrahim Ali won from Haldia seat, played by Tapasi Mondal – went to Left Front.
Out of 19 seats in West Midnapore, TMC won 17 seats, while one seat went to BJP (won by Dilip Ghosh from Kharagpur Sadar) while one seat went to 'Sabang' Congress (Manas Bhuiya later joined TMC).