04/05/2021
NR group launches unique campaign to save from Corona in Mumbai
Mumbai: Although the whole country is plagued by Corona virus, Maharashtra especially Mumbai is in the grip of this epidemic. A strict lock down has been imposed here. Special three-layer, 100% cotton masks were distributed by the NR Group for the Mumbai Police, who are on their lives for 24 hours to protect the residents of Mumbai. These masks were distributed to the police personnel at the hands of Mumbai Police cum Police Commissioner Vishwas Nagre-Patil.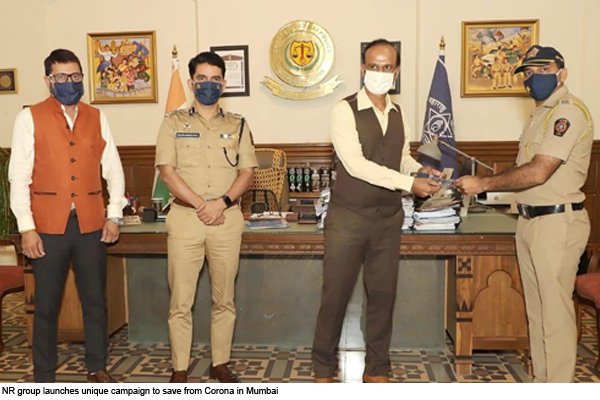 Let me tell you that the easiest and most important treatment to avoid corona in today's situation is to wear a mask. NR Primium Mask has been made by NR Group which has many properties like Anti Microbial, Water Repellent, Three Layer, Reusable, Washable. Over 10 thousand masks were distributed by the NR Group for the Mumbai Police Frontline Warriors. Mumbai Police cum Police Commissioner, Sh. Vishwas Nagre-Patil was given these masks for distribution at the hands of NR group chief Nilesh Raghani. Nagre-Patil also appreciated the features and features of this mask.
Nilesh Raghani, Head of NR Group, said that we have prepared this special mask which is three layers and the biggest thing is that it can be washed and reused several times. This mask has been investigated by the prestigious Laboratory of Europe. In which it has passed in many criterias such as wearing it does not cause any trouble in breathing. Our masks can be worn continuously for many hours while surgical masks are forbidden for long hours.