Raipur: Gauri Soni, the mother of a child, was always in the midst of garbage. When the evening sun started to set in, she would leave the pile of garbage and waste and return home. By and large Sujatha Sahu's life was similar to that of Gauri. The whole day used to pass in the pile of waste before the sun goes out and before it sets. On one hand, where there was daylight on all sides, but his life was like living in the dark even among the bright. It was their destiny to juggle their June 2 bread while searching for some items in a pile of waste.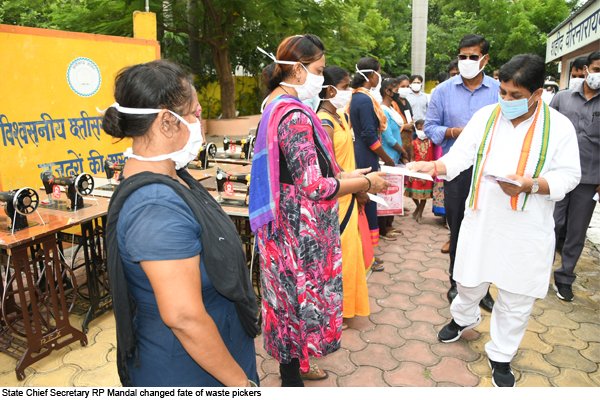 One day, while the Chief Secretary of the state RP Mandal was passing through the capital's Whip Chowk, his eyes were on women searching for goods in the garbage heap. Some women also had children with them. They stopped their cars and called garbage pickers dressed in dirty clothes. He himself got down from the car and started asking the garbage pickers about him. Then the Chief Secretary told him that the state government is running a plan for your welfare. How long will you spend your life in such waste? Learn to work and live with self-respect. The Chief Secretary's eye on the waste pickers brought a new silver lining and a new dawn for his life.
A few days later, Urban Administration, Development and Labor Minister Dr. Shivkumar Dahria met the waste pickers near his own colony. Linking to the scheme of the Labor Department, he gave the sewing machine along with other essential items to many women including garbage pickers Mrs. Gauri Yadav, Sujata Sahu After the beginning of the new dawn of his life, the initiative of Labor Minister Dr. Dahria took a new direction with giving new light to his bleak life. He linked these garbage pickers to the labor department's scheme to save them from harm and also gave checks for household expenses to all of them with their own hands and made them self-sufficient and self-respecting by adopting self-employment after getting good training in sewing and embroidery. Learned to live with Today, almost two months later, the circumstances of many women including Gauri, Sujata have changed a lot. They do not have dirt in their heaps of discarded garbage, but make masks with the message of hygiene and avoidance of disease, salwar shoots that connect women with respect, there is a skill in the form of blouse costumes It is also clean and fit to wear.
There is no mess in hands, masks and skills conveying hygiene …
Gauri Yadav, who lives in Subhash Nagar area of ​​Raipur, said that now her life has changed. She no longer goes to the garbage heap. Through the Department of Labor, I got 45 days sewing training and with the help of damage training, I also got a stipend of Rs 300 per day. He informed that the Chief Secretary along with Minister Dr. Dahria, Shri R. P. Mandal had then said that the new respectable work in lieu of the old work will bring positive changes in his life. Today after training I have changed a lot. I used to lock some work stuff in a pile of dirt. He used to sell his money in the scrap and used to walk home with it. From morning to evening, the whole day was spent among the garbage. It is not so now. I have sewed masks and have also learned to stitch salwar shoots, blouses.
Gauri Yadav says that this work is a million times better than before. Sewing work can be done at home with children. Earlier there was only dirt in the garbage, hungry and thirsty wandering. It was sunny and rainy, all day had to wander around. Now, while being clean, we stitch neat clothes. He says that in the coming days it is hoped that she will also be able to create a better future. Similarly, Sujata Sahu says that when the officials including the Minister Dr. Dahria and the Chief Secretary assured us that training in stitching and embroidery could change their lives one day, then I and many of the garbage pickers along with me gave up the new garbage Chose the path.