13/03/2021
Perfect Eid! Latest poster of the film 'Radhey your most wanted Bhai' released
Mumbai: Salman Khan's films are synonymous with action, drama, entertainment and the audience is eagerly awaiting his arrival on the big screen with 'Radhey: Your Most Wanted Bhai'. Directed by Prabhu Deva, the action-drama is one of the most awaited films of 2021 and the film's latest poster has made us more excited.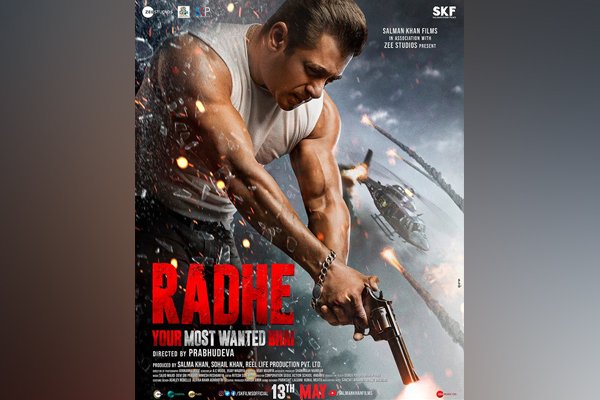 With exactly two months left in the film's release, Salman Khan has released a new poster where he appears in a fiery but slick avatar. With a battleground background with burning helicopters and artillery, he is appearing hotter than ever in a strong fissick. The poster has all the elements of a classic Salman Khan and promises to be a big entertainer!
Talking about the film, Zee Studios' CBO Sharique Patel shared, "We are excited to bring audiences back to theaters through this Salman Khan film as their films create a festive atmosphere. It is 2021 Will be the biggest film and we are looking forward to seeing the support / feedback from the audience. I am sure it will be a happy occasion for the fans after a tough year. Radhey: Your most wanted brother, Salman is a perfect for fans and cinema lovers It will be Eid. "
A spokesperson from Salman Khan Films shared, "Salman Khan and Eid have a special connection and at Salman Khan Films we feel happy to continue this tradition with Radhey: Your Most Wanted Bhai. We clap, Looking forward to playing the whistle and bringing back the era of 'houseful' for which Salman Khan's films are known. We are happy to collaborate with Zee Studios for Radhey and together we want the film Reached all audiences and could enjoy it with all their security guidelines. "
Along with Salman Khan, the film also stars Disha Patani, Randeep Hooda and Jackie Shroff in lead roles. The film is presented by Salman Khan Films in association with Zee Studios, produced by Salma Khan, Sohail Khan and Reel Life Productions Pvt. The film will be released on May 13, 2021, on the occasion of Eid.