15/03/2021
PM Modi bigger threat to India than Pakistan: farmer leader, Balbir Singh Rajewal
A section of agitating farmers has continued to protest against three controversial agricultural laws passed by the Narendra Modi government at the Center, a farmer and leader of the Samyukta Kisan Morcha – Balbir Singh Rajewal – has now called Prime Minister Narendra Modi a 'big threat' in the country. From Pakistan.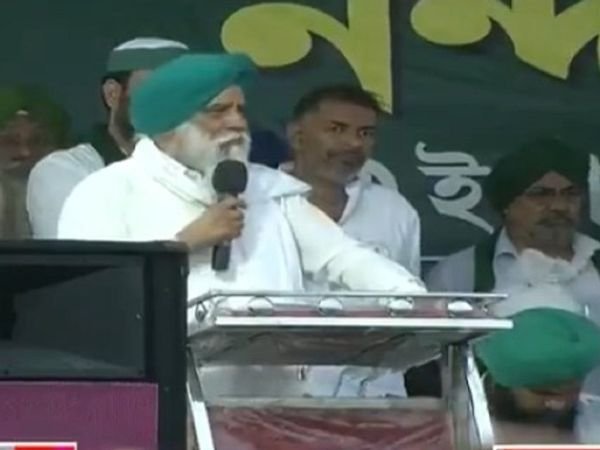 "Today, we have realized that the Modi government only understands the vote-bank policy, so we need to defeat them in elections. You have the biggest weapon in your hands – this is your vote and I appeal to you, somebody Vote too but not Modi, "the farmer leader said.
Rajewal was addressing a 'Kisan Mahapanchayat' in Nandigram where West Bengal Chief Minister Mamata Banerjee and former TMC MLA and now BJP leader Suvendu Adhikari are battling each other.
He said, "It is PM Modi and not Pakistan which is a big threat to India".
Rajewal also opposed the use of electronic voting machines and said that once the farmers' movement is over, 'we will do something about it'.
TIAKAIT EXPOSED
TMC MP DolaSen welcomed Rakesh Tikait at Kolkata Airport. Says TMC will give full support to the movement. Even hands data on Nandigram to Tikait…and says she won't come to share stage with him but background support will be given.. pic.twitter.com/I98viXHnfQ

— Tajinder Pal Singh Bagga (@TajinderBagga) March 14, 2021
Bharatiya Janata Party leader Arjun Singh reacted sharply to the remarks and demanded action against Rajewal for his statement.
"Leaders who, to express their freedom of expression, hail Pakistan and other countries and do cheap politics, should be punished according to the laws," he said.
Meanwhile, Rakesh Tikait, national spokesperson of the Bharatiya Kisan Union, and Yogendra Yadav, the founder and self-proclaimed farmer leader of the Swaraj Abhiyan, have also urged voters not to vote for the BJP.