02/02/2021
Punjab: Sukhbir Singh Badal's car attacked, bullets fired, 3 workers injured
New Delhi: In an unprecedented incident, on Tuesday, the vehicle of Shiromani Akali Dal (SAD) President Sukhbir Singh Badal (Sukhbir Singh badal) was attacked in Jalalabad district of Punjab. Bullets were also fired in this attack.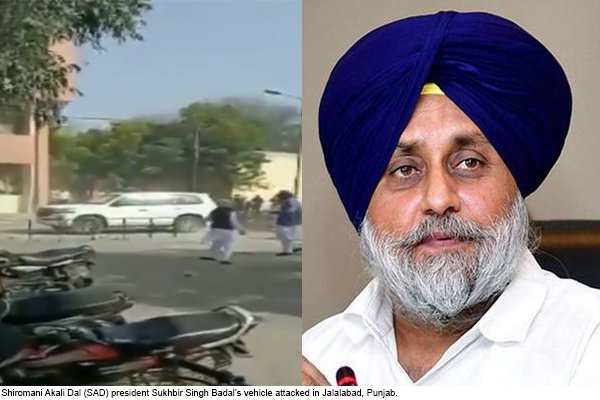 This has injured three party workers. When the incident happened, Badal was going to the SDM office to support his party's candidates for filing nominations for the upcoming Punjab municipal elections. Meanwhile, Congress and SAD workers came face to face. Violent clashes broke out between the two groups. The Akali Dal has accused the Congress of the attack.
The video of this incident has also been released by the news agency ANI. It can be clearly seen in the video that some miscreants are seen around the white colored car, which have poles and stones in their hands. Unknown miscreants threw stones at the vehicle and opened fire.
#WATCH | Shiromani Akali Dal (SAD) president Sukhbir Singh Badal's vehicle attacked in Jalalabad, Punjab.

(Note: Strong language) pic.twitter.com/kH9HWL9ZPg

— ANI (@ANI) February 2, 2021
At the same time, police officers also reached the site of the incident and started an investigation regarding the attack. Earlier on Monday, some reports were also revealed in which the Aam Aadmi Party and Congress workers had a face-off.