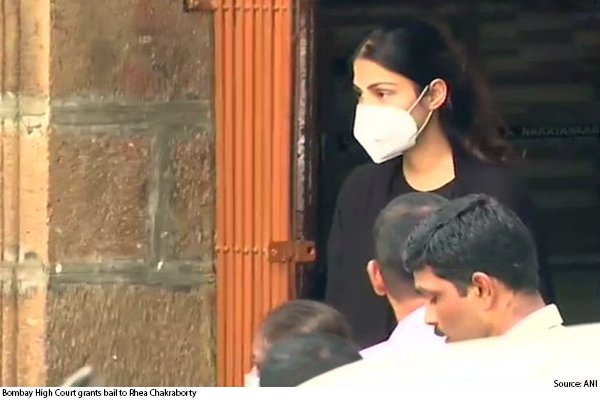 Mumbai: Actor Riya Chakraborty has been granted bail with conditions around a month after his arrest in the Sushant Singh Rajput case on drug related charges. Rhea Chakraborty has got bail from the Bombay High Court on a personal bond of one lakh. Rhea was lodged in the Byculla Jail under the Narcotics Drugs Psychotropic Substances (NDPS) Act for about a month. Rhea was arrested on 9 September by the NCB after a long interrogation. However, the bail plea of ​​Rhea's brother Shouvik has been rejected by the court. Also, Dipesh Sawant and Samuel Miranda, arrested along with them, have also been granted bail by the court.
Rhea Chakraborty, after her release, has been asked to attend the nearest police station for 10 days. She must also hand over her passport to the police and cannot travel abroad without the permission of the court.
Rhea Chakraborty's lawyer Satish Maneshinde said, "We are happy with this order." Truth and justice have prevailed and finally the presentations on facts and the law have been accepted by Justice Sarang V Kotwal. "He said," Rhea's arrest and detention were completely unfair and beyond the reach of law. The scare investigation by 3 central agencies, CBI, Enforcement Directorate and Narcotics Control Bureau should end. We are committed to the truth. "Satyamev Jayate
Rhea Chakraborty was arrested by the Narcotics Control Bureau on 8 September on charges of organizing drugs for Sushant Singh Rajput, a popular film star, who was found dead in his Mumbai apartment on 14 June.
Let us tell you that on Tuesday, the special court had extended the judicial custody of Rhea Chakraborty and her brother Shouvik. Special Public Prosecutor Atul Sarpade said that the NDPS court has remanded them both to judicial custody till October 20. The special court has earlier rejected the bail plea of ​​Rhea and her brother. He then approached the Bombay High Court for bail.
The NCB started an investigation into the matter after the ED shared the chats acquired from Rhea's mobile phone. NCB has interrogated Deepika Padukone, Sara Ali Khan, Shraddha Kapoor and Karisma Prakash after drug chat surfaced. The Enforcement Directorate is investigating allegations of money laundering related to the Sushant case.
Also read in Hindi: Sushant Case: रिया को ड्रग्स मामले में मिली बेल, शोविक की याचिका कोर्ट ने की खरिज