06/11/2020
SC shocker for Maharashtra government in Arnab case, bans his arrest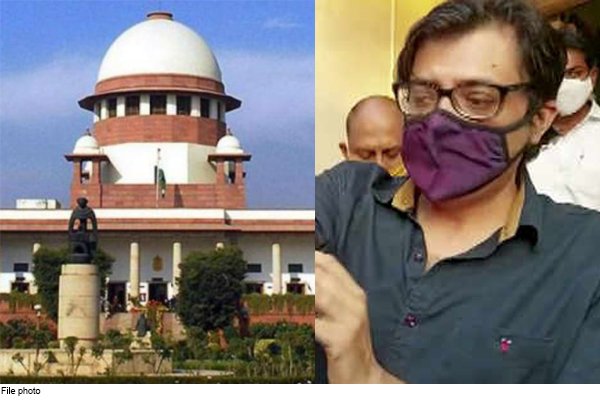 New Delhi: The Supreme Court on Friday stayed the arrest of Arnab Goswami, giving a major blow to the Maharashtra government in the privilege violation case. Along with this, the Secretary of the Assembly was issued a notice of contempt on October 13 for writing a letter to Republic TV editor Arnab Goswami, in which the privacy of the proceedings of the House was breached by knocking the door of the apex court against breach of privilege.
The Supreme Court today asked why a show cause notice of contempt of court could not be issued against the Maharashtra Legislative Assembly Secretary in connection with the petition of Arnab Goswami, Editor-in-Chief of Republic TV. A bench headed by Chief Justice SA Bobde also said that petitioner Arnab Goswami cannot be arrested till the hearing in the privilege notice issued against his case. Explain that the Maharashtra Assembly Secretary had issued a privilege notice against Arnab for criticizing Maharashtra CM Uddhav Thackeray.
The Supreme Court asked the Secretary of the Maharashtra Legislative Assembly to be present during the hearing on this letter to be held after two weeks. Until then, the court did not order Goswami's arrest in the privilege case. A bench headed by Chief Justice of India SA Bobde appointed senior advocate Arvind Datar to assist in the case.
A bench headed by Chief Justice of the Supreme Court SA Bobde said how can one be intimidated in this way. How can someone be prevented from coming to court by making threats in this way. Along with this, he said that we criticize such conduct.
A bench of Chief Justice SA Bobde and Justices AS Bopanna and V Ramasubramanian said that the Maharashtra government's action was meant to intimidate the petitioner as he had approached the court and threatened to punish him for doing so. The Supreme Court was hearing a show cause notice by journalist Arnab Goswami for breach of privilege motion by Maharashtra Legislative Assembly for the report relating to the case of actor Sushant Singh Rajput's death.
Let us tell you that Goswami was arrested from his house in Mumbai on Wednesday and then taken to Alibaug in the case of abetment to suicide in 2018. Designer Anvay Naik and his mother Kumud Naik committed suicide and named Goswami as one of the three men who had not paid the arrears of Rs 5.4 crore.
Also read in Hindi: सुप्रीम कोर्ट ने अर्नब मामले पर महाराष्ट्र सरकार को दिया झटका, गिरफ्तारी पर लगाई रोक